Cosmic Classroom Antics in Year 6!
This year our class have set up online wikis. These are web pages which we can add to, edit and refine as time goes on. Our first theme was 'Me and My World'. Pupils were able to publish their work and share it online. As part of this theme our class looked at our place, not only in the local and worldwide community, but also our place in the Universe. We did lots of fabulous Science experiments and worked out the scale of all the different planets and even how far away from the Sun each one is. Even though it was really good fun, the very best part was finding out about Tim Peake, the British astronaut who is living and working on board the International Space Station, presently orbiting our planet (19 times per day!!!). We watched the launch LIVE from NASA TV in our own classroom. We were really excited when they did the countdown and when the rocket blasted off into Space. Our class followed what Tim was doing for weeks afterwards and we even managed to link up live with him in the ISS. We watched him floating and doing little experiments with water bubbles. He said that his favourite button on the ISS was the one that opened up the hatch to outer space. Our 'Cosmic Classroom' live link-up was interactive and the organisers wanted us to get involved - so we all did the same tasks as him, like touching our toes and turning round. We found out that once he started to spin, the lack of gravity would make it hard for him to stop. Also it was funny seeing how he just floated in mid-air when he tried touching his toe too. We made video messages for him to answer but the thing we are still most looking forward to making is a little animation movie about Space. When we have finished it, we are going to send it to Tim and to the European Space Agency. We are excited! We will put it up on the wiki and the school website when it is finished, for everyone to see.
Year 6 pupils' have BRILLIANT imaginations. In fact, they are most definitely 'OUT OF THIS WORLD'!!!!!!!!!! Watch this SPACE! ;)
Fish Eggs in Year 6
At the beginning of February Year 6 were very excited when 30 fish eggs arrived in their classroom. The eggs were placed in a fridge and have been kept at a temperature of 7 degrees. The children have also been monitoring oxygen levels, light, water and any losses. Almost one month later there have been many changes. Tiny fish have emerged from the eggs and are known as Alevin. They have underdeveloped fins and a large orange balloon-like bag attached to their belly which is full of yolk – the yolk sac. The Alevin relies on this yolk sac as its source of food for the first few weeks of its life. Children in Year 6 have been recording their observations on a daily basis and the fish are now approximately 2cm long. Currently we have 24 healthy Alevin and it won't be long before they will be released back into their natural habitat – the Ballinderry River where they will hopefully grow into adult Dollaghan trout.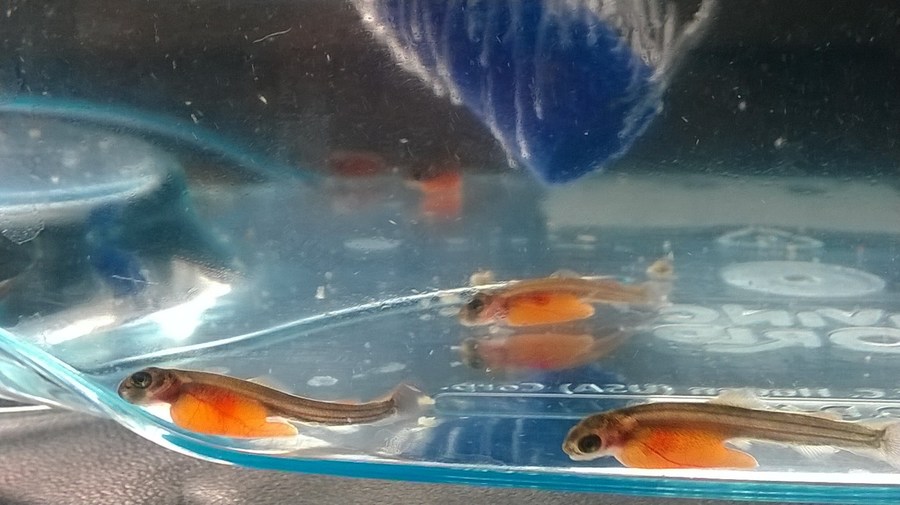 Mrs Campbell's class carried out an investigation using the 100 square. Children were investigating what happens for squares of different sizes when you add the numbers that are diagonally opposite each other. We also investigated whether there was a pattern to the answers which was relative to the size of the square.
Miss Murray's Class are working with percentages this term. They know that percentage represents 'Out of 100'. Year 6 can recognise percentages such as 10%, 20%, 25%, 50% and 100% and also know their equivalent fraction too!
Inclusion Assembly by Year 6
Part of our school ethos is to be welcoming to everyone and this term INCLUSION is one of our core values that all year groups are focusing on. In assembly, Mrs Campbell's class gave a very interesting presentation on this raising awareness of its meaning in school, at home and in our local community. The children did an excellent job and certainly gave everyone food for thought.
Words are seeds…
Words are seeds; they do more than blow around.
They land in our hearts and not the ground.
Be careful what you plant and careful what you say.
You might have to eat what you planted one day...
Professional Rally Driver visits Year 6
Early in our new term we had a very interesting visitor called Jonathan who was a rally car driver. He told us about all the safety gear that had to be worn and he showed us gloves, a suit, boots, helmet and a special chair that had to be moulded to fit the driver. The back of the chair was even painted silver so that the heat would be deflected off the driver! He also showed us the rim of a tyre that is used in formula one which cost a staggering £3000, which means £12,000 per car! Wow, that's expensive!
We were very excited when he brought a rally car into our school playground for us to look at. The car had plastic windows for two reasons. One reason was for safety so that if the car crashed it would not shatter, and secondly so that the windows would be lighter which means that the car can go faster – very important when in a race! The car also had a special button on the outside that set off a fire extinguisher inside the car – a very important safety feature as crashes do happen.
It was really interesting learning about rally driving as a sport. Someday you may see some of us competing in the Circuit of Ireland Rally or even in Formula One! Lewis Hamilton better watch out!!!
EU Code Week
On Thursday 15th October 2015, at 9:05 am Miss Murray's class left CPS and walked to Phoenix IPS. We were going to look at all sorts of exciting technology. The AmmA Centre staff organised and ran all the different stations for us. When we got there, Miss Murray split us into our groups. There were 5 groups. We took it in turn to go round all five stations. Dan directed us to our starting place.
The first station was Minecraft / Occulus Rift. It was very realistic. There was a cheaper version with a phone in the front. It was slightly different from Minecraft. Both felt really realistic - like being in a virtual reality and it felt like you were actually in the game. There was a headset that covered our eyes and inside it there were two lenses which blended the pictures in to one 3D image. Even we were 3D too. It felt like we were actually in the game.
After the first station, we went to the second one. It was mini-drones and robots. We controlled the mini-drones using an ipad. They were flying things made of plastic. We made them fly through hoops.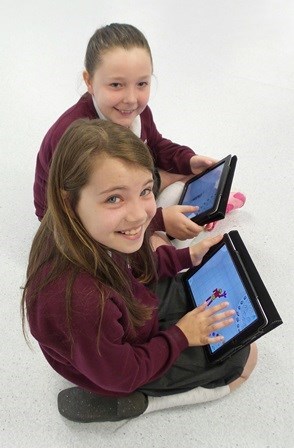 The third station was the 3D printer and Modio. We designed robots using the Modio programme on individual ipads. Once we made them, we coloured them and linked them up to the computer which sent the design to a scanner which was linked to the 3D printer. Steven from the AmmA Centre explained that it would take approximately one hour to complete the 3D printing. We saw an example of a finished 3D print of Armagh Cathedral that had been made using Minecraft.
The fourth station was Minecraft. We watched a video of how other pupils had created a world of their school. Then we explored that world. They gave us 5 minutes to make a tower. Some people managed to finish the task....some people made pigs with saddles!!! ;) We were allowed to add something to the school to improve it. In computer club we are doing the same thing now but for Cookstown Primary School. There is a lot of measuring and planning to do!
The fifth and final station was Scratch Junior and the programme was Kodable. It made a lego foot kick when you sent instructions to it. It was like Angry Birds on Hour of Code.
We walked back to CPS and the whole time we just couldn't stop talking about the WONDERFUL, AWESOME, AMAZING, INCREDIBLE day that we just had. That was the BEST DAY EVER!!!!!!!!!!!!!!! :)