____________________________________________________________
Home/School Learning
To view your child's weekly planners and online resources please click here.
____________________________________________________________
World Book Day
On World Book day we watched a special author masterclass presented by Matt Haig. He is the author of a book called 'Evie and the Animals'
In this book Evie discovers that she can hear what animals are really saying. Matt Haig talks about how we are in a very important time for the planet and the environment, so it is important to have a great deal of empathy for the animals that we share the Earth with.
Afterwards we tried to imagine what various animals may say to their owners or other humans if they had the chance.
P.E
When Swimming was cancelled due to the Swimming Gala, we had great fun doing circuits in P.E.!
Internet Safety Day
Constable M. Allen visited our classes to teach us more about internet safety. He reminded us that we should never talk to strangers, share personal information or become involved in bullying when we are online.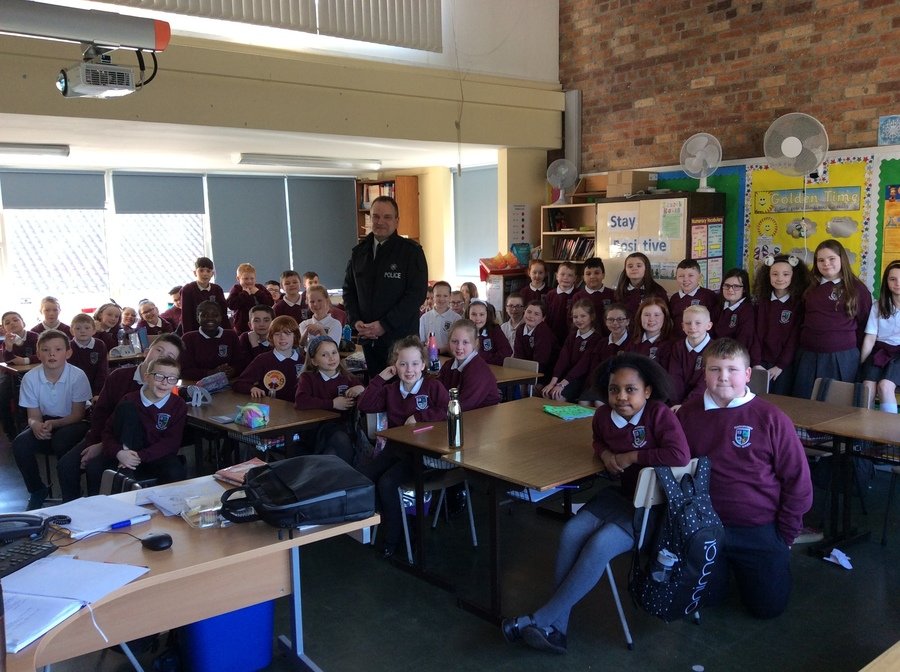 P5 learn about Fire Safety
Year Five had a very special visit from Marty, a firefighter with NIFSA, who explained and showed them how to be fire safe in the home. Marty showed the children many different ways that fires can start in our homes and each child received a booklet to take home explaining all the different hazards.
Rube Goldberg inspired machines
To complete our topic on Machines, Year 5 were asked to design and create their own Rube Goldberg machine. Have a look at Bradley demonstrating how his works.
Maths Week in Year 5
Year 5 enjoyed lots of fun Numeracy activities during Maths Week. These included Times Tables board games, being Detectives and Practical length work.
Rube Goldbery inspired machines
P5 children enjoyed designing and making their own Rube Goldberg machines.
Their challenge was to use simple machines to put a ball in a container.
IFA Coaching
Year 5 have been enjoying IFA coaching each Monday morning with Judith.
P5 visit to the Burnavon.
On Monday 7th October Primary 5 along with Primary 6 visited the Burnavon to take part in a Poetry Workshop with Paul Cookson. All the children had a really enjoyable time and it showed them that Poetry does not have to be serious, it can be extremely funny. Each child received a signed copy of one of Paul's books. A great memory from a fantastic trip.
Year 5 having great fun learning about the Rugby World Cup.
Year 5 have enjoyed participating in the Belfast Telegraph Rugby World Cup project this September. They are having a fantastic time learning about the Rugby World Cup, all the different counties which are participating and about Japan, the hosts. Georgia Kerrigan, a pupil in Mr Coulter's class, even got a video sent to her by Jacob Stockdale, the Ireland winger which is found below.
Back to school letter
To download the Year 5 back to school letter click here.
Here you will find resources specific to our year group.
Please click on the link below to download:
View the work we do in our French class with Diane.
Our Art Gallery
View some of our wonderful pieces of art.
Click here to view our wonderful online project on the Ancient Egyptians using pbworks.