Ancient Egyptians
Our topic this term has been the Ancient Egyptians and we have enjoyed using our Wiki to find out more about their lives. Our class has also teamed up with Year 5 classes from Phoenix Integrated PS and Holy Trinity PS to share ideas and facts that we found out about the Ancient Egyptians with each other online via a C2K Fronter room.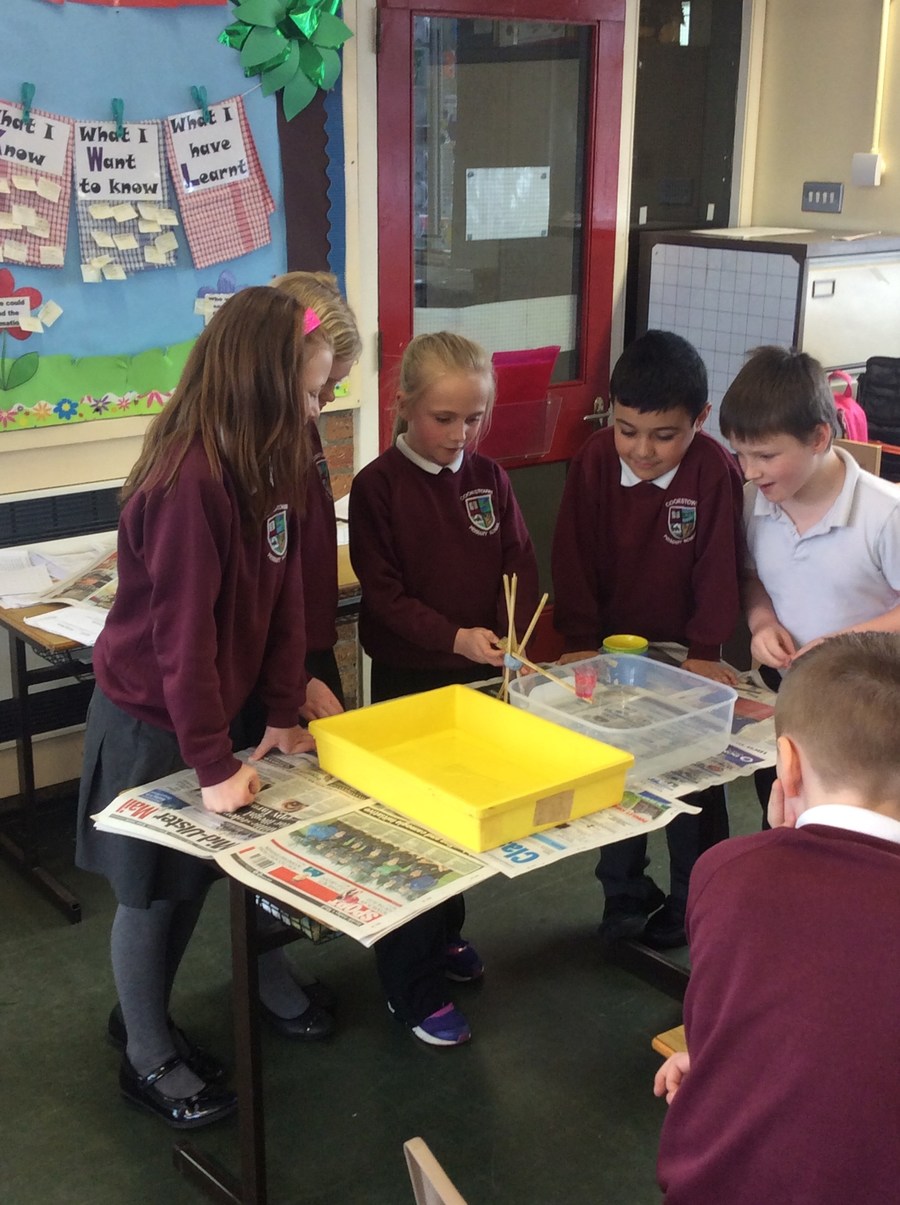 Football Coaching
Year 5 have had another busy term in Cookstown PS. We all enjoyed our Football coaching with Trevor Erskine from Active Communities and have been making great progress in our Swimming lessons. Mrs Kelso's class have also loved participating in lots of team games and activities as part the FLAMES project, which is led by Year 13 pupils from Cookstown High School.
'All About 100' Day
In Year 5 we used 'All About 100 Day' to revise some mental maths facts related to the number 100. We played a game called 'Pairs which total 100' where partners raced against each other to roll dice and then coloured in corresponding number bonds to 100. We then used the 100 square to practise adding numbers together using a game called 'Roll to 100'.
We also had lots of fun comparing objects in three jars and then guessing which jar contained less than 100 items, which contained more and which jar contained exactly 100. When we found out there were exactly 100 marshmallows we divided them so that each child in our class would get an equal number of marshmallows to eat!
Football lessons
We also have started six weeks of Football lessons on a Wednesday morning with coach Trevor Erskine from the Active Communities programme. We are having a lot of fun, learning many new skills and it is keeping us active.
Year 5 begin swimming lessons
It's been a busy start to the 2016 for us in Year 5. We have already enjoyed several swimming lessons in Cookstown Leisure Centre and these lessons will continue for the rest of this term. (Mrs Kelso's class swim on Thursdays and Mr Mitchell's class swim on Fridays.)
Mr Mitchell's class appear on BBC Newsline
Mr Mitchell's Year 5 class had some very special visitors to their classroom recently. Mr M had organised for Michael O'Kane from iTeach to come and speak to the children about coding/computer programming as part of EU Code Week. Michael began by explaining what coding was and then showed the children 2 free apps, Kodable and Lego Fix the Factory. The children loved playing these games and by doing so they were not only improving their coding skills but they were also developing their problem solving skills. Michael then showed the children another app that they would use to control a drone. This created mega excitement and as if this wasn't enough excitement for one day, a BBC television crew turned up. They filmed what the class were doing and then Robbie Meredith, the education correspondent, interviewed some of the children and Mr Mitchell. Mr Mitchell and the boys and girls were all very proud to represent our school on the BBC Newsline programme that evening.
Fireman visits Year 5
Year 5 recently had a visit from local fireman Daron Patterson. Daron taught us lots about fire safety and helped us to understand the importance of helping to prevent fires in our homes. Everyone received a fun-pack filled with fire safety activities and we were all asked to think of a Fire Escape Plan with our families so that we all know what to do in the event of a fire.
Here you will find resources specific to our year group.
View the work we do in our French class with Diane.
Our Art Gallery
View some of our wonderful pieces of art.
Click here to view our wonderful online project on the Ancient Egyptians using pbworks.
Click here to access My School