Granny Grahame's visit
A very special thanks to Alice Grahame's granny who came in to speak to Year 4 about life during the second world war. We learnt lots about Cookstown in the 1940's. Such as there were two train stations in Cookstown, as well as a prisoner of war camp! She told us lots of stories about the American soldiers too! She brought in lots of props too such as gas masks, ration books and an identity card!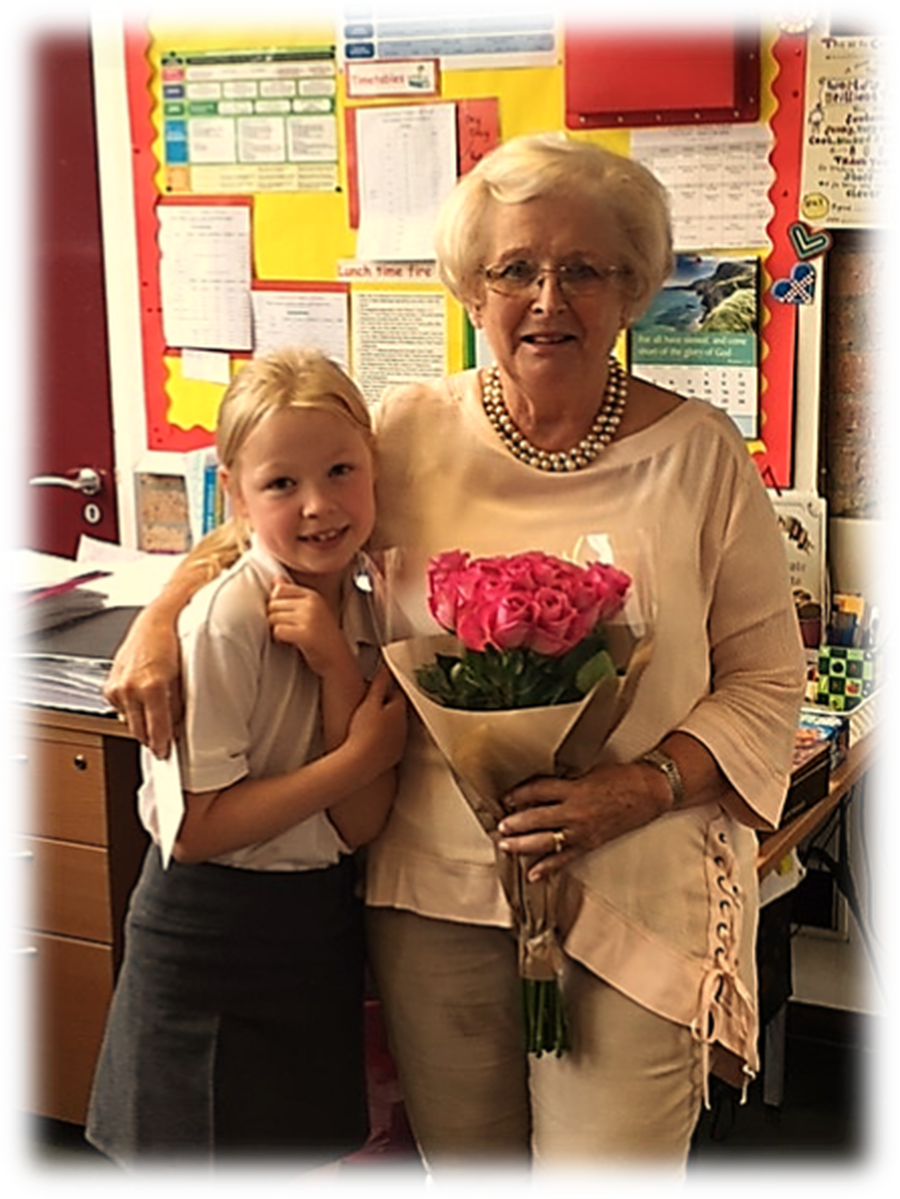 Springhill Trip
Year 4 went to Springhill to experience life as an evacuee. They learnt about rationing, how to make do and mend and even went on the hunt for a German spy!
Art work stimulated by images of The Blitz on London
To create the effect of a city in flames we glued strips of orange, red and yellow tissue paper onto card. Next we used the technique of printing to add detail to our pictures. We hope you agree the effect is very impressive!
Roots of Empathy
Mrs Lamont along with Mrs Orr, the Roots of Empathy mummies and babies attended a special conference in Ballymena last week. Here's what Mrs Lamont has to say...
"As the Roots of Empathy instructor I've loved delivering the programme to Year 4 pupils. Over the past year we have enjoyed visits from our 'special' babies Amelia, Daisy and Zach. We have watched them grow and develop. We have also celebrated each milestone such as their first tooth, changing to solid food, crawling, walking and much more!
During the year, the programme covered different themes such as: safety, sleep, crying and communication. The Roots of Empathy programme enforces how special each child is and the importance of feelings and showing respect to others. Our moto this year was 'make someone happy today'." Alberta Lamont - Roots of Empathy instructor
Tessellating Patterns
Year 4 had lots of fun making tessellating patterns using 2D shapes. Look at all of our amazing pictures!
Chocolate Fractions
Year 4 used chocolate bars to help them learn all about fractions. We broke Kit Kat bars into halves and quarters and also galaxy bars into sixths and eigths. We even divided a Rolo bar into tenths! The most enjoyable part of the lesson was getting to eat the yummy chocolate!
Dissolving Experiment
Year 4 conducted an experiment to see which substances would dissolve in warm water. We tested sand, salt, coffee, sugar and rice. We learnt about soluble and insoluble substances.
Spring has finally arrived!!
Year 4 have been exploring the changes in the seasons by going on a spring walk. They enjoyed searching the school campus for signs of spring. We discovered daffodils, bumble bees and vegetables growing in the green house. We also heard lots of birds singing and the sun was shining the whole afternoon. We noted down all of the signs of spring we saw, felt and heard.
Shared Education in Year 4
Year 4 pupils from Cookstown Primary School, Holy Trinity Primary School and Phoenix Integrated Primary School had the privilege to take part in the Shared Education Project throughout Term 2 of this year. The chosen topic was 'Weather'. Pupils explored this topic through engaging in interactive Numeracy, Literacy, I.C.T and S.T.E.M lessons. Allowing the pupils to visit different school campuses and to interact in mixed school groupings promoted meaningful relationships and attitudes amongst one another. The staff and pupils who participated thoroughly enjoyed the experience and will look forward to sustaining this project for many years to come.
World Book Day
We loved dressing up for World Book Day! Can you guess which characters we are???
3D Shape Rockets
We had fun building our very own rockets with 3D shapes in a Practical Maths lesson!
Sorting 2D shapes
Primary 4 have been exploring 2D shapes this month. They have been exploring their properties such as straight and curved edges. Here are some photographs of Primary 4 sorting the 2D shapes into venn and carroll diagrams. Can you work out how these 2D shapes are sorted?
Who's in the hot seat?
Primary 4 discovered that many jobs are affected by the weather. They worked together in teams to come up with questions to ask different people who help us about their job and the weather. Some children were provided with the opportunity to sit in the 'hot seat', taking on the role of someone who helps us and answer questions the children created.
What's the weather?
Primary 4 are really enjoying their weather topic. They have been exploring many weather story books, the weather outdoors, weather vocabulary, weather forecasts, weather and jobs and much more. Here are some photographs of Primary 4 taking on the role of weather forecasters and forecasting the weather for Northern Ireland.
Kiwoko Hospital
The families in Year 4 were delighted to send £160 to help the Kiwoko hospital in Uganda. The money will be used to help purchase medical supplies. It was a pleasure to meet Stephen and Linda who are going to work in the hospital. We wish them all the best as they move to Uganda with their family. Thank you once again to all the families who supported us in this endeavour.
Roots of Empathy
It was lovely to be reunited with our babies after the Christmas break! We were very excited to see any key developments which had been achieved. Baby Amelia now has two teeth, call roll over and is attempting to crawl. She also is beginning to talk and said her first word "Mama". We were amazed at her progress!
Baby Daisy is now 8 months old. We really enjoyed watching her roll over, sit up, clap her hands and play. Mummy Sheryl told us her daughter loves eating mashed vegetables like carrots and peas. Baby Daisy is really growing up fast!
Odd and Even numbers
Year 4 enjoyed rotating around four different stations to learn more about odd and even numbers! Investigating patterns in the odd and even grids was definitely everyone's favourite!
Bee bot in Primary 4
Primary 4 had great fun programming bee bot around the fairy-tale bee bot mat. They were able to provide him with 6 instructions before pressing 'Go'. Well done Primary 4.
Visit from baby Zach
Primary 4 were in for a treat when they got a surprise visit from baby Zach. They wished him, his mummy and big sister a 'Happy Christmas' and gave him his card and present. We think he will really like his present and can't wait to see him again to see how much he has grown (and if Santa came).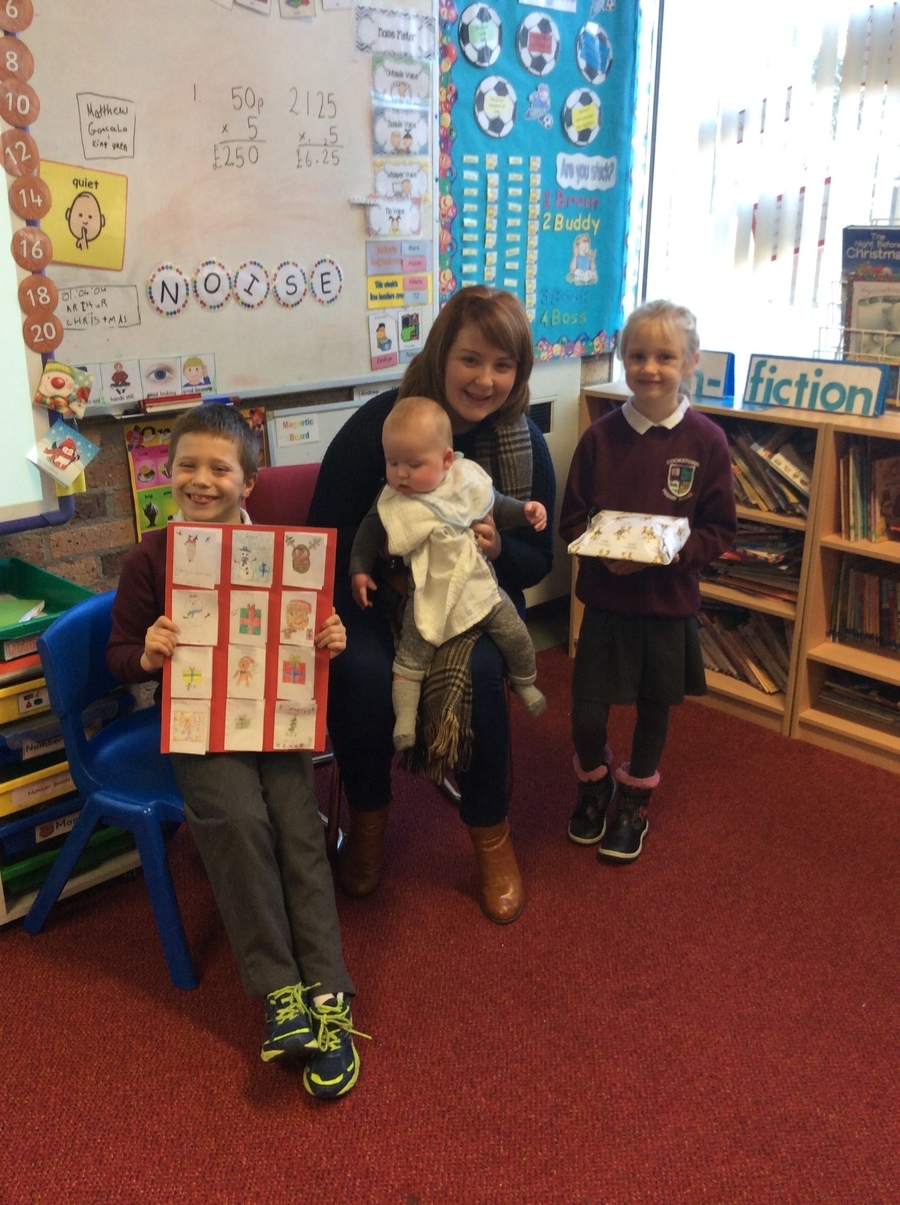 Parents and Friends
Mrs Boles' class were thrilled when a special delivery of new toys and numeracy resources arrived! We would like to thank Parents and Friends for purchasing these for our classroom. We are having lots of fun playing with the new toys during Golden Time and on wet breaks. The numeracy resources are a great asset to our daily lessons also.
Argory Trip
Year 4 thoroughly enjoyed their trip to the Argory House. They stepped back in time into the shoes of Master Tommy Bond for the day. The pupils thoroughly enjoyed dressing up in old time clothes, going to Tommy's school, playing with Tommy's toys and even exploring the beautiful grounds of the Argory.
World War 2 Exhibition
Year 4 had the opportunity to visit the Burnavon theatre when they hosted a World War 2 exhibition. The pupils were amazed as they got to try on WW1 and WW2 helmets, hold real war weapons and even sit inside a British war Land Rover.