Soft Play Area
Year 3 would like to thank Parents and Friends for our new soft play area! We are having lots of fun playing with the new equipment!
Year 3 Drama Queen's!
Year 3 have had great fun in the drama programme, Lights Camera Confidence. They have learned lots of new vocabulary like props, audience and character. They have developed drama techniques including mime, improvisation, freeze frame and role play.
Year 3 enjoying practical Numeracy
Primary three enjoy a practical lesson in Numeracy. The children are learning about capacity and the use of measuring jugs to see how much water it will take to fill different size bottles. The children are really enjoying themselves and worked really well together in their teams.
Popcorn Investigation
P3 investigated popcorn to see how heat changed things. The children made observations using a magnifying glass. They observed how popcorn looked before and after it was heated. They found that when heat was applied to popcorn it changed the shape of it and we discussed all the interesting shapes we found.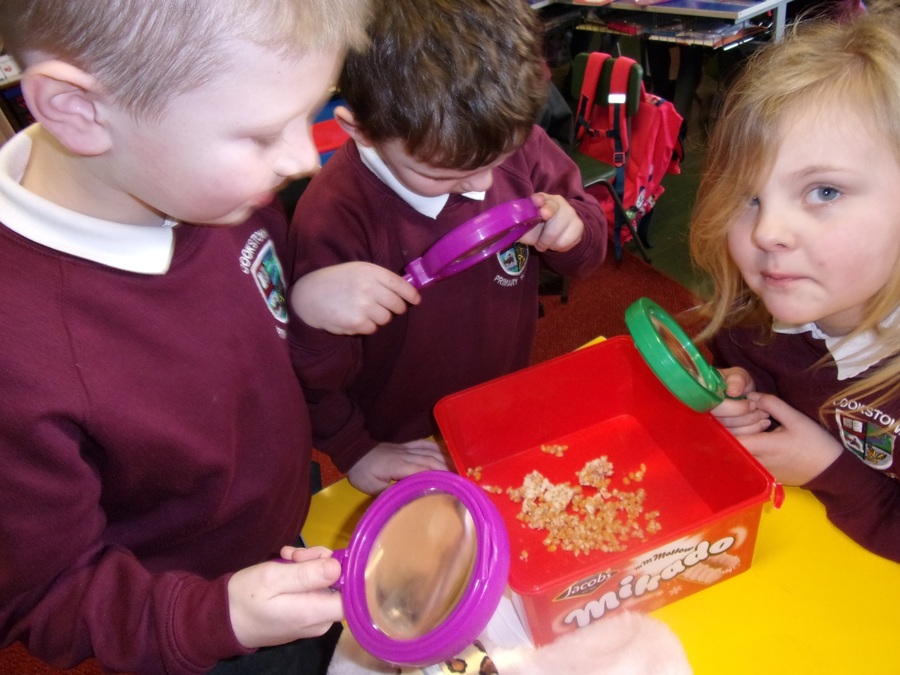 Festive Fun in Year 3
Glitter and tinsel everywhere as we get our classrooms ready for Christmas!
What song do Santa's elves sing when he comes home on a cold Christmas Eve?
Freeze a jolly good fellow!
The Big Build - Active Learning in Year 3
Our challenge is to work together to build houses for The Three little Pigs.
Who will have the best design? Which will be the strongest? What materials can we use?
The designers, builders, architects and engineers of the future build and test their houses to keep those little pigs safe from the Big Bad Wolf!
Here you will find resources specific to our year group.