Autism Centre (Encompassing LSC)
Latest News
LSC Senior Term 3 News
During this term, LSC Senior have been enjoying time in the Sensory Garden. They have learned how to look after an array of different plants and flowers, as well as having some time to socialize with their friends. They have particularly enjoyed some role play in the new garden hut.
LSC 2 have also been learning about the parts of a flower. They used magnifying glasses to investigate a daffodil. It was good fun and they were able to see all the parts of the daffodil
LSC Junior Term 3 News
LSC Junior have been busy making a mess this term! After moving back into our beautiful new classroom, we have been doing lots of practical activities. We planted sunflowers back in April and watched them starting to grow and we enjoyed bucket time where we made ice cream splats…….That was so much fun, making the ice cream and then splatting it on the ground..super messy! The best bucket time was when Mr Mitchell was visiting our class and Mrs Cuddy was playing 'Hunt the Marshmallow.' He had to find the marshmallow with his teeth and got his nose covered in flour. It was very funny! We watched very carefully to see what would happen.
Finally, we are excited about our sports day and end of year performance and we are looking forward to having the mums and dads coming to watch us. Thursday 22nd June at 9:30 am…….don't miss it!
ASC 2 News Term 3
This term ASC 2 have been enjoying the topic "Giants" and we have been doing some work with money, just like the giant from Jack and the Beanstalk.
We have learnt some new Primary Movement songs and are practicing them every day.
We are delighted to welcome John to our class and hope he really enjoys his time at CPS.
We are looking forward to our Sports Day, Official opening of the refurbished classrooms, and our P7 prizegiving where we will entertain our families, friends and visitors on Thursday 22nd June.
ASC News Term 3
This term ASC 1 have been learning all about the Seaside as part of 'World Around Us'. The children have enjoyed making fish, crabs, boats and ice-lollies in Art and Craft and ice cream Sundaes, ice cream milkshakes and marshmallow lollies in Cookery.
Jude had some very exciting news to share when his hen had 6 chicks. His Mum and Dad very kindly brought them in for us to see and we all enjoyed the experience.
Chloe and Jude also celebrated their birthdays this term and we enjoyed birthday cake at snack time.
Paul Gomac visits LSC Senior
Paul Gomac has been performing Magic for over 30 years, and since turning professional in 1986 has specialised in entertaining children. He decided to come to LSC to share some of his magic tricks! Check out the video below and be amazed at Cookstown Primary School's very own magicians!!!!
LSC 2 News
The children in LSC 2 were learning about the parts of a flower. They used magnifying glasses to investigate a daffodil. It was good fun and they were able to see all the parts of the daffodil.
World Book Day in ASC 2
ASC 2 enjoyed dressing up for World Book Day. We even wrote a story about all the characters!
Our Class Story
Once upon a time a group of children went to visit Storyland through the portal. They wanted to have an adventure. When they reached Storyland they saw a pirate ship on the sea, they saw a Dinosaur Island, they saw a Fairytale Castle, they saw a hulk tower and an Imperial Battle Destroyer.
The Princess Katie lived in the Fairytale Castle with a servant boy Martin to look after the farm. The Pirate Captain Matthew and First Mate Christopher sneaked in to the Castle and seized the Princess Katie when Martin was doing the farm work. The Pirates wanted the Princess's diamond necklace for their treasure and gold coins too.
They sailed in their pirate ship to Dinosaur Island and asked Dinosaur Thomas to guard Princess Katie and keep her safe in his cave.
Martin needed help to find Princess Katie. He asked Hulk Nathan to help find her. They went to Darth Ronan who said he would fly them in his spaceship to Dinosaur Island.
They flew in the Imperial Battle Destroyer and Hulk Nathan spotted Princess Katie in Dinosaur Thomas's cave. Darth Ronan landed on Dinosaur Island. Pirate Captain Matthew, First Mate Christopher grabbed their swords, Dino Thomas sharpened his teeth and claws and they prepared for battle. Hulk Nathan turned green, Darth Ronan took out his light sabre and Martin took his spade and they had a skirmish.
Princess Katie escaped from the cave when everyone was fighting. She put her jewels on again with the help of Hulk Nathan and ordered them to stop fighting. They stopped immediately as they were commanded. Princess Katie ordered a party and they all started to dance. Then they all had lots of cupcakes and fizzy drinks. They all lived happily ever after.
THE END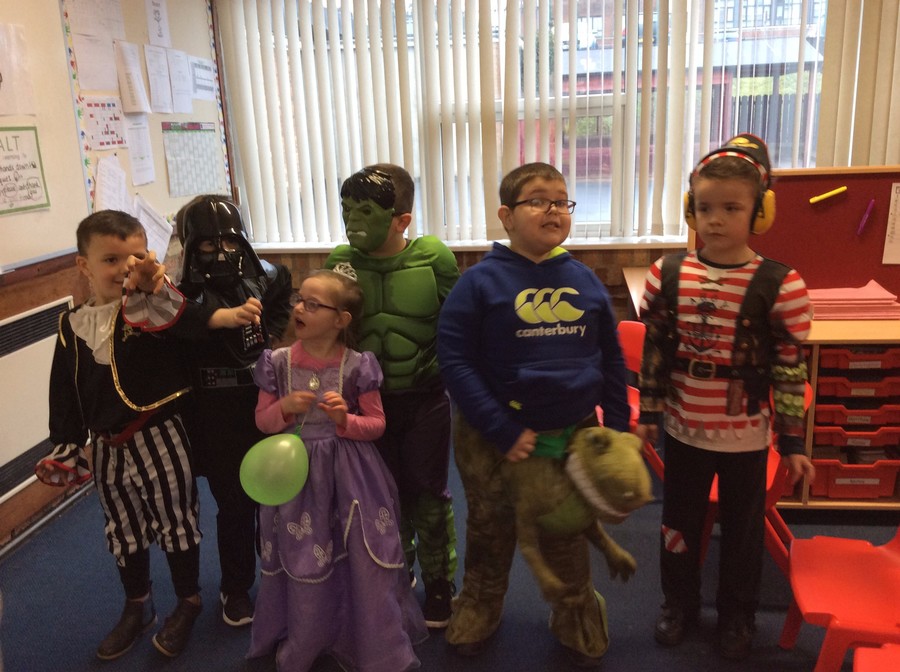 ASC 1 News
The children in ASC1 have been swimming this term. They have enjoyed their lessons at the Leisure Centre and have had great fun in the pool with their friends.
Their topic in WAU has been The Gingerbread Man. The children have read the story and have made gingerbread men and gingerbread houses in Art/Craft time.
It was also Rebecca's birthday. We all enjoyed singing happy birthday to her and she had a lovely Moana birthday cake.
LSC 2 News
Our class have been learning all about money- we worked in our class shop to buy items, add up the total price, pay with correct coins and moved on to working out change.
We have been learning all about myths and legends – we have read a variety of texts and looked at important features. We are now writing our own myths in class… the children have loved this topic, probably because it involves monstrous beasts and magical objects!
LSC 1 News
The children in LSC 1 have been having lots of fun in March – We have had World Book day and our class topic has been Fairy Tales. We have been learning different things through Goldilocks & The Three Bears and The Three Little Pigs. We have made bears, pigs, pigs houses' in Art, we have done science experiments to find out what makes a bed comfy and also to see what materials are good to build a house with. We have also been patiently waiting for our new classroom to be finished…..and it now is!! Mrs Cuddy and her staff are beginning to get things moved back in so that the children can move back in after the Easter holidays. Special thanks to Victor and his team of builders who have always had a friendly word for the children and the staff…..we even made pancakes for them on Pancake Tuesday!
World Book Day
We loved dressing up for World Book Day! Can you guess which characters we are???
LSC 1 News
In February, we made bird feeders. We mixed grated cheese, grated apple, breadcrumbs, sunflower seeds, birdseed and lard. Next we squashed the mixture into milk cartons and hung them out in the woodland area. We also made apple bird feeders with sunflower seeds stuck into the skin. It was such good fun. We had to wear our wellies though to go and hang the feeders up as the woodland was very mucky!
ASC 2 News
ASC 2 have been working hard in class but took some time out to celebrate Valentine's Day. There were some lovely cards and presents made to take home to mummy, but some lovely surprises were brought into school too. Ronan, Martin and Matthew in ASC 2 recently celebrated their birthdays also.
ASC 1 News Term 2
This term we have been learning all about Winter. We painted snowmen, made Suzy snowflake and practised our cutting out to make polar bears and penguins. We were thinking about the birds in winter and made some bird food. We hung the bird food on the fence in the playground so the hungry birds could eat it. In cookery, continuing with the winter theme, we have made Polar bear meringues, Snowmen biscuits, Penguin buns and Angel Delight. The children have been busy and have enjoyed all these activities.
LSC 2 Weighing
Mrs McCartney's class are comparing objects in the classroom to find out which are heavier and which are lighter.
LSC 2 enjoyed the snow!
Mrs McCartneys class had lots of fun playing in the snow on Friday 13th January. It was really exciting, cold and wet!
Hot and Cold places
We have been learning all about Hot & Cold places in LSC 1. We made snowmen and polar bears and we did a science experiment to investigate how polar bears stay warm in icy conditions. We got to put our hands into icy cold water, then we did the same thing using a woolly glove which was like the polar bears fur. Finally, we placed our hands in between two bags filled with oil and placed the covered hand and our own hands into the icy water. We were so surprised to see that the hands in the oil bags stayed warm showing us that it is the fat (or blubber!) that keeps the polar bears warm!
ASC 2 go swimming
Every Friday in January (13th, 20th, 27th) and up until half term in February (3rd and 10th) we will be going to the Leisure Centre for our swimming lessons. This is always good fun and a great way to stay healthy.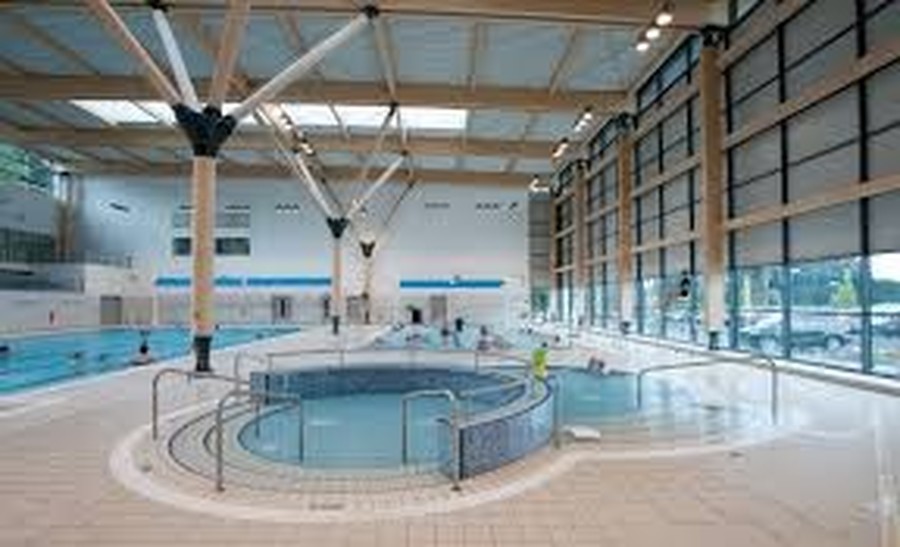 ASC 1 News
We moved into a new mobile classroom at the start of this month while work is being carried out on refurbishing our classroom. We saw the mobile arriving before Christmas and were very excited to see the cranes and big machinery.
We also had fun in the snow and made patterns in it with our feet.
ASC 2 News
ASC 2 worked very hard learning songs for their Christmas Show during December. It was a lovely end to the term and great to have so many parents and friends there to enjoy the performance. A special mention to Thomas for his excellent talking role – Well Done Thomas!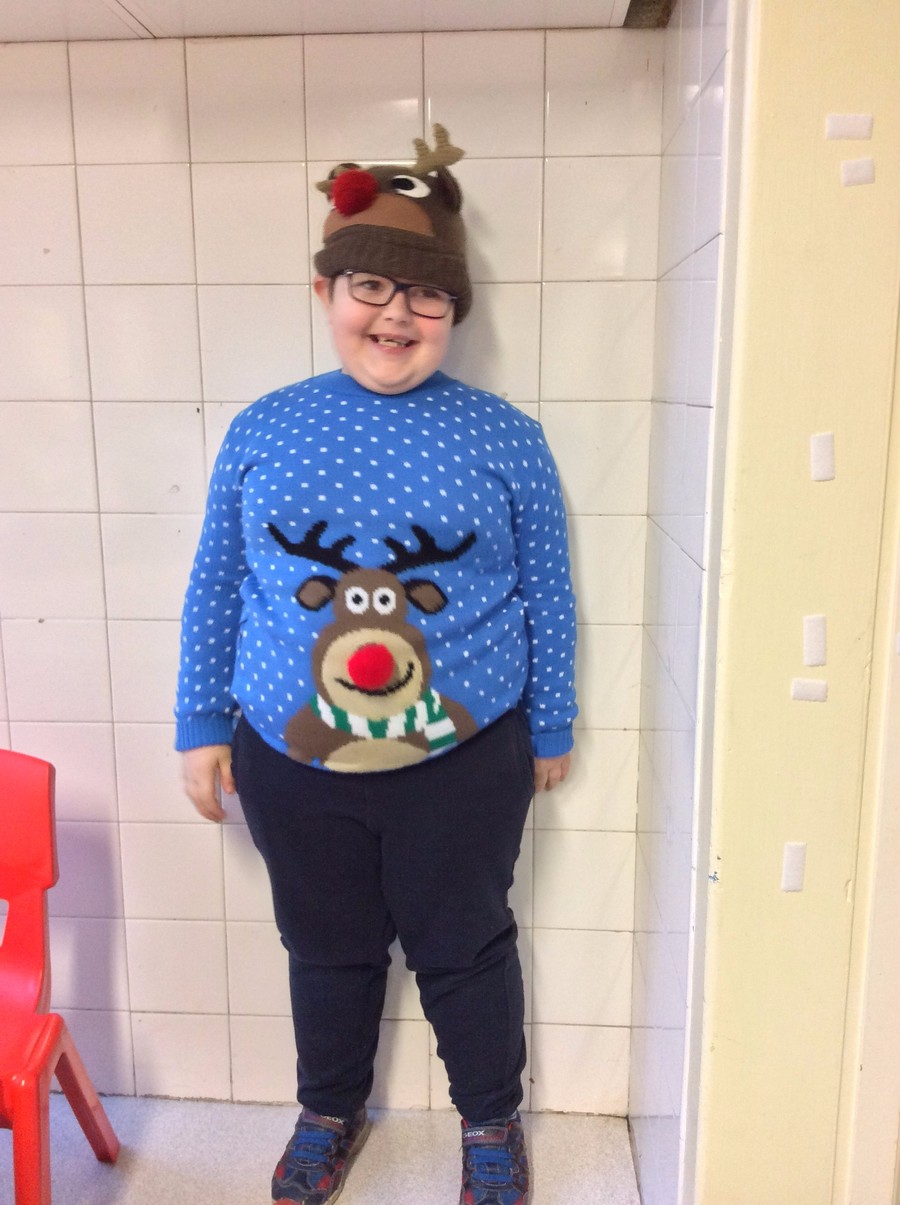 Miss Lamont becomes Mrs Fenton!
Miss Lamont got married in December and her new name is Mrs Fenton. We wish her and Mr Fenton every blessing and happiness. Congratulations!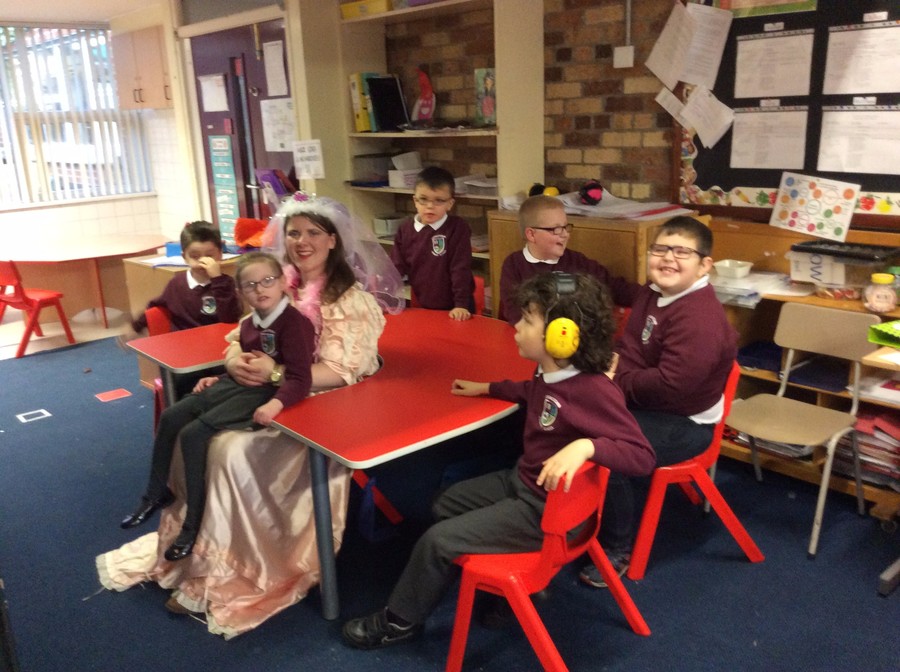 PSNI visit
The LSC & ASC classes had a visit from the PSNI to tell them all about Road Safety. The children got to look at photos of being safe on the roads and then the police officer presented all the children with 'Road Safety Kits.' They had a great morning and listened very well.
ASC1, ASC2, LSC1 and LSC2 at the Panto.
On Thursday 1st December ASC1, ASC2, LSC1 and LSC2 got to go to the pantomime in the Bardic Theatre, Donaghmore. It was a relaxed performance which meant the sound was not as loud and the lights were kept on for the audience. We really enjoyed watching Cinderella and her castle staff solve the mystery of the Upstairs Downstairs Carry on Calamity.
PDMU
In PDMU, LSC 2 are learning about how to stay safe on the dark mornings and dark evenings. Here are Rui and Oliver wearing fluorescent jackets with reflective stripes. The class then designed new jackets using fluorescent pens, markers and silver card.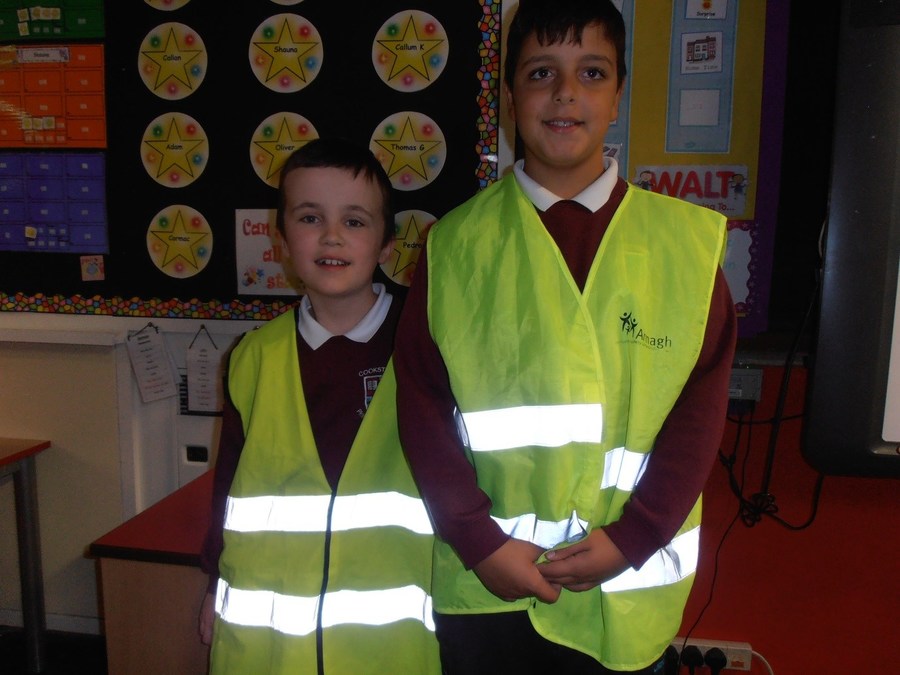 Art and Design
For our Woodland Animals topic LSC 2 are making hedgehog pencil holders from clay. They really enjoyed moulding the clay into hedgehog shapes and then pushing a pencil in to make the holes to hold lots of pencils. These will be the hedgehog's spikes!
ASC 1 News
The children in ASC1 have been learning all about Autumn in WAU. They have enjoyed making owls, scarecrows and leaf people at Art/Craft time. They enjoyed a visit from Debbie and her animals. She brought a fox, an owl, a rabbit, a ferret and a hedgehog. The children loved seeing them and getting to touch them. Thank you to everyone who brought in cat/dog food to help Debbie feed the animals. It was much appreciated.
In Cookery the boys and girls have made spider buns, chocolate apples, scarecrow biscuits and fruit salad, again all linking with the theme of Autumn.
We celebrated Max's birthday in October and had a yummy chocolate cake. He loved it when we sang happy birthday to him and he got to blow out all the candles.
World Around Us
LSC 2 completed their topic on Autumn by carrying out some investigations on Pinecones. They learned how pinecones disperse their seeds and then they examined pinecones using a magnifying glass. They said they had scales like fish and snakes.
LSC 2's Woodland Walk
On Tuesday 11th October we went on a Woodland Walk during World Around Us. We each had to find items on a sheet. We looked for
Green leaves
Yellow leaves
Brown leaves
A big leaf
An acorn
A chestnut.
We found all the leaves but we couldn't find an acorn or a chestnut. This was because we couldn't see any Oak trees or Horse Chestnut Trees. When we went to the garden in school, Miss Evans found an acorn!
We had a brilliant time on our leaf hunt.
LSC 1 celebrate Roald Dahl day
During Roald Dahl day the children in LSC 1 enjoyed Bucket time – We had exploding frobscottle, making gloop and finished off with Chocolate Wonka Bars. Mrs Cuddy had to get making her own Wonka bar too!
ASC 1 News
Welcome back to Jude, Rebecca and Alexandre. Hello to Abigail, Chloe and Daniel. Everyone had a good summer and it's great to be back at school again to see all our friends and make new ones. Jude found a caterpillar when he was out on the farm and he brought it in to show everyone.
We read 'The Enormous Crocodile' as part of Roald Dahl day and made crocodiles.
ASC 2 celebrate Roald Dahl day
To celebrate Roald Dahl day we made Willy Wonka bars and hats.
Here you will find resources specific to our year group.