Learning Support Centre
Encompassing Autism Specific &

Learning Support Classes
Latest News
________________________________________
Home/School Learning
To view your child's weekly planners and online resources please click on their class below.
____________________________________________________________
Poppy's home school learning
Poppy is taking advantage of the beautiful weather at the moment and decided to do her numeracy work outside!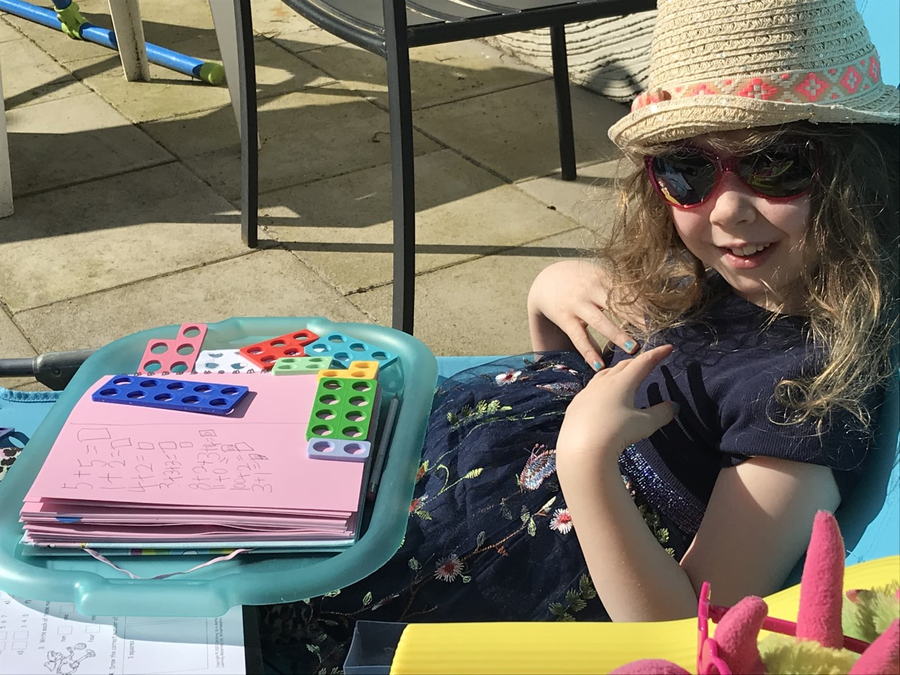 Katie Whyte's Week one of Home School
Jude – Week 1 Home School
Learning about frogs and out for a walk through the fields. Not to mention giving the hamster a cuddle!
Jaxon – Week 1 Home School
Baking banana bread and painting rainbows.
Internet Safety Day 2020
LSC 2 were very busy on Internet Safety Day learning how to stay Safe online. They watched The Adventures of Kara and Winston. They taught us the SMART rules.
S = What should keep you Safe?
M = Be careful when meeting up.
A = What should you accept?
R = What is reliable?
T = Who should you tell?
The class worked in pairs to sort out information into what we need and do not need permission for. They also created their own Avatars and discussed how they can be used for online safety.
ASC 1 News
The children started a Dance project in February in conjunction with the Burnavon. Sheena has been coming in on Thursdays as they have been creating a dance based on the story 'We're going on a bear hunt'. Louise has also been working with us to make some props for the performance.
The children have been enjoying cookery every week. February was a special month as we celebrated Shrove Tuesday by making pancakes. The children got to choose their own toppings. They also made fruit boats in Cookery from apples, oranges and raspberries.
ASC 2 News
ASC 2 have been using "We're Going on a Bear Hunt" to think about the topic "Ooh, it's Chilly!"
ASC 1 News
This term our topic is Brr! It's Freezing and we have been exploring signs of winter, winter weather and dressing for winter. We have enjoyed creating snowmen pictures, woolly hat crafts and making polar bears during Arts and Crafts time in Play. In Cookery we have made snowmen from marshmallows, melting snowmen, hot chocolate (with marshmallows of course) and polar bear buns.
As part of our Sensory work we have been going to the Playshack on a Friday. The boys and girls are enjoying climbing up the soft play stairs, sliding down the slide, lying in the ball pool, chasing after each other, using their imaginations and having fun.
Heart Start in LSC2
This term, LSC 2 have been learning what to do if they have an Unconscious Casualty who is breathing during PDMU. We have been learning this through the Heart Start Program. It has been good fun learning the new skill of how to put our friends into the Recovery Position.
DRS AB
D = Check for Danger
R = Check for Response
S = Shout for help
A = Open Airways
B = Check for Breathing
Putting into Recovery Position
Phone 999
ASC 2 November News
ASC 2 really enjoyed seeing all of the animals Debbie brought to visit. We felt their lovely soft fur and feathers. Some of us even touched the prickly hedgehog!
We enjoy our cookery lesson every week and loved our chocolate sundaes.
ASC 1 November News
The children in ASC 1 have been very busy this term. We went on an Autumn walk around the school playground and down the Avenue in search of Autumnal features. Poppy carried the clipboard and she ticked off all the things we saw. Unfortunately, there were no squirrels to be found!
We also enjoy our Cookery lesson every week. In our class we cook on a Friday. The children really enjoy making and eating what they have made. This term we have made hedgehog cupcakes and owl biscuits amongst other things.
The children have had fun using the new scooter boards. They have been playing games to complete the puzzles whilst zooming up and down the corridor on their tummies on the scooters.
Maths Week in LSC 2
In cookery, we looked at how we could use one shape to make another 2 shapes. We made apple turnovers using square puff pastry sheets. We then had to fold these in half to make another shape. We found we could make a rectangle or a triangle. The apple puffs were good to eat too!!
Maths Week in LSC 1
Hungry times!!! We used strawberry laces to sort for length – longest to shortest – and then we ate them! We used cheerios to practise counting skills – some groups to 10 and some to 20. We threaded the cheerios onto dry spaghetti – and then we ate the cheerios!
Maths Week in ASC 2
During Maths Week P3 enjoyed using apple trees to take away the apples game
P4 enjoyed looking at grid patterns then making our own
LSC 2 News
LSC 2 had fun making chocolate apples for half-term. They had to decide whether they would use white chocolate or milk chocolate. They then got to dip them in coloured sprinkles and mini mallows. The best part was eating them!!
ASC 1 News
This month the P2 children enjoyed Outdoor play. They played in the mud kitchen, on the scooters and on the bikes. All of the children have had fun in the Soft Play area with the addition of some tyres. Using their imaginations they have been sailing in them, chasing after them and rolling them to each other.
We also enjoyed a visit from Debbie Doolittle. Debbie cares for wild and tame animals who are hurt or abandoned and then releases them back into the wild if they are well enough. She brought along Munchkin the ferret, Joe the owl, Holly the hedgehog, Peter the rabbit and Linnie the fox. The children loved seeing them all. Thank you to everyone who sent in dog and cat food to help Debbie feed the animals.
LSC 2 Cookery
We have been learning how to follow instructions to make lots of yummy buns in cookery. We have made top hats, mud cake, rice krispie buns and popcorn bars this month.
LSC 2 Literacy
We have been learning that nouns are names of people, places and things. We worked hard to sort pictures into these 3 categories in literacy.
LSC 2 Games
LSC 2 have enjoyed learning and practicing how to take turns, share and deal with winning and losing during Board Games time. This helps to build up their social skills.
ASC 2 News
We had 2 birthdays, Abigail was 8 and Ronan 7 years old. We enjoyed the lovely cakes. Happy birthday!
We have started the theme "Hey, hey, look at me" by looking at our faces and thinking about what we can see, hear, smell, touch and taste.
ASC 1 News
This term we welcome back Poppy, Zack, Adam, Tyler and Robbie to our class. Rosie, Katie and Ollie are our new pupils and it is great to have them in ASC 1.
We have had 1 birthday in September – Katie was 7. We sang 'Happy Birthday' to her and she blew out the candles on her cake. Everyone enjoyed a delicious slice of chocolate cake.
Out topic this term is 'Hey! Hey! Look at me' and the children have done some super Art and Crafts during playtime.
September in LSC 1
The children have settled so well into LSC1 and we almost have a completely new class! We have welcomed 4 children from ASC2 – Jude, Matthew, Katie and Alex. Jasmine has joined from Year 5 and Jaxon from Year2 and we have received some brand new children to our class – Daniel, Nicole, Sarah and Jayden. It has been a great start to the school year. We have been playing number games, drawing our faces on the computer, doing sensory circuits and enjoying our new Active Community Coaching programme with Kat. It is hard to believe we are back at school almost a month already!