Netball after school club is taken by Mrs McErland and Mrs Patterson. It is held in the assembly hall or outdoors (weather permitting).
Netball after school club is open to girls in Year 6 and 7. Pupils are asked to meet in Mrs Patterson's room and change into P.E clothes. No jewelry is permitted.
Netball club will commence on 9th January through to 27th March from 3pm to 3.45pm.
This is open to any girls in Year 6 and Year 7.
Changing Area: Girls - P1 (Mrs McErlane)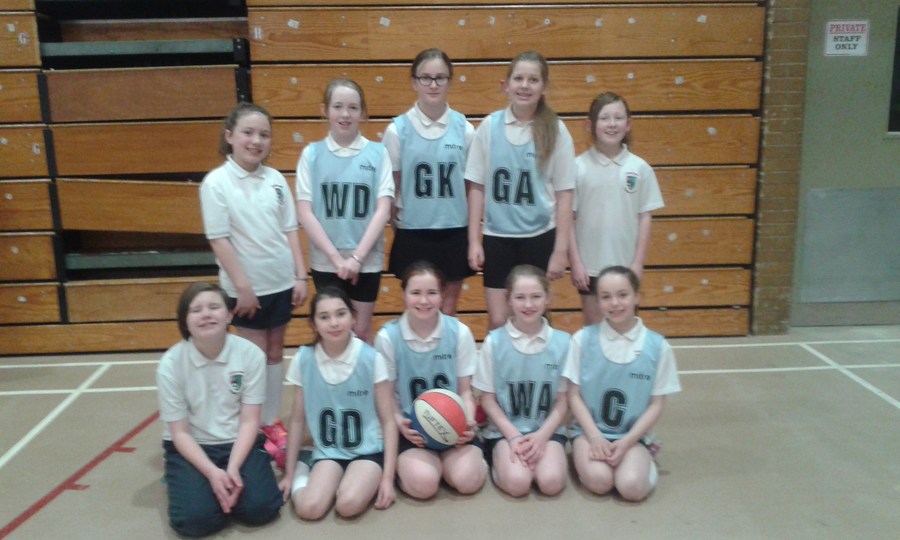 New Netball Kits
The Primary 6 and Primary 7 girls have been training hard this term. They would like to thank the Parents and Friends of Cookstown Primary School for kindly providing the team with a new set of netball nets. The girls have enjoyed participating in the Tri-County Netball League which took place on 27th January 2017. The team played well but were narrowly defeated in three of their four matches. The girls have undoubtedly gained invaluable match experience which will help them in their forthcoming matches. Keep up the good work girls!
Netball Blitz
I am so pleased for the Girls' Netball team who won the Netball Blitz at Dungannon Leisure Centre on Friday 8th April. The girls got further good news when they were told that they were also joint winners of the Netball League which took place in January with St Marys. Apparently, the winners were not decided by goal difference but by matches won. Both teams, Cookstown and St Marys had a draw. So a big congratulations to the girls who won both the Netball League and Netball Blitz this year.
.
Cookstown Primary School played in Section A of the Blitz. They beat Killyman, Phoenix and Moneymore Primary School but lost their first match to St Josephs. This was a tight section as 3 teams were equal on points. Cookstown and Killyman Primary School got through to the semi-finals because of goal difference.
Cookstown played Bush Primary in the semi-final and won 2 goals to 1. This took them through to the final to face Killyman again. The girls were determined to win and held their nerve by demonstrating skilful play, agility and team work; winning this match 4 goals to 2.
Well done to Claudia Hill, Ella Thom, Lucy Jeffers, Grace McKenzie, Rebecca Compton, Hannah Harkness, Millie Black, Abbie Wylie, Louise Martin and Nicole Hamchevici who took part in the competition.
Netball News
The Year 6 and Year 7 netball girls enjoyed an afternoon of netball in a friendly competition against Phoenix and Holy Trinity Primary Schools. The competition was arranged by Phoenix Primary School as part of Integrated Education week. All schools are very fortunate to be within close proximity of the Leisure Centre to avail of its excellent facilities. It was a great opportunity for all the girls to meet their friends from other schools and to play some netball.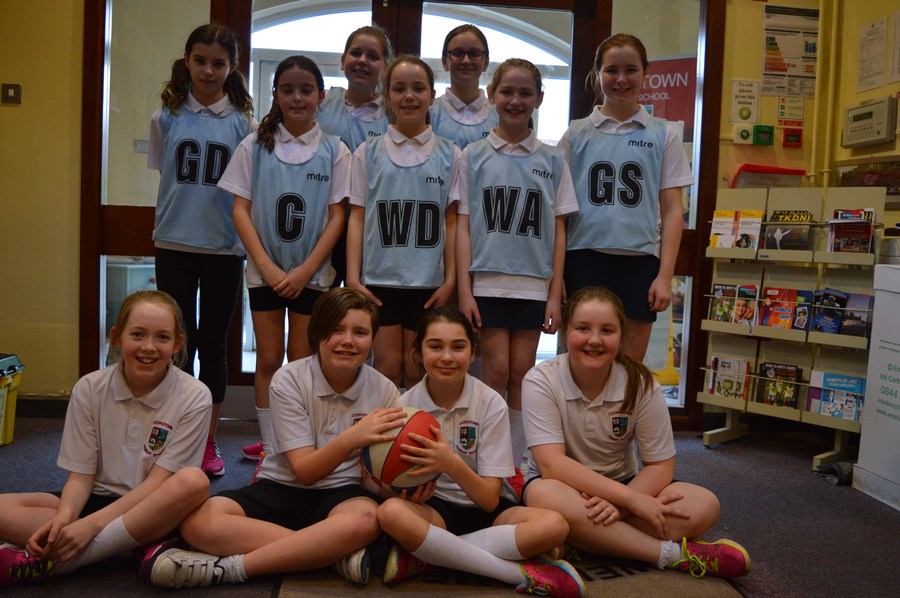 Tri-County Netball League
The Girls' Netball team played in the Tri-County Netball League on Friday 29th January at Cookstown Leisure Centre. The girls got off to a super start winning their first three matches but unfortunately got beat in their last match. Unfortunately Cookstown Primary School missed out on winning the League by one goal difference.
There was outstanding play by all the players. Ella Thom as Goal shooter and Claudia Hill as Goal attack played well together and between them scored 14 points. They were supported by Grace McKenzie as Wing attack and Sophia Simpson as Centre who kept the play at Cookstown's end. The opposition got very little opportunity to score with Nicole Hamchevici as Goal Keeper and Darcy Norris as Goal defence. The GK and GA were supported by Lucy Jeffers as Wing defence. The team were cheered on by their subs Millie Black, Hannah Harkness, Louise Martin and Leah Reid.
The scores were Cookstown 8 Moneymore 0
Cookstown 2 Phoenix 0
Cookstown 4 Orritor 0
Cookstown 0 St Marys 3
Netball results for 2013 -2014
Tri County Schools' Netball League
Cookstown Primary School – runners up
Cookstown 7 Phoenix 0
Cookstown 3 Orritor 3
Cookstown 2 Moneymore 4
Cookstown 4 St Mary's 1
The netball team are very pleased with this result.
All girls played well as a team. Freya Kennedy would have to be named as girl of the match for her outstanding goal shooting, even under pressure.
Netball after school club will commence on:
Monday 18th September
and also on these dates this term:
Monday 18th September
Monday 25th September
Monday 2nd October
Monday 9th October
Monday 16th October
Monday 23rd October
Monday 6th November
Monday 13th November
Monday 20th November