Thursday 2.10 - 3.00pm Mrs Wallace
Mrs Greeves
P3 and P4 pupils
Cookstown Primary School Junior Choir is comprised of children from Years 3 & 4. It is a non-selective choir so any child interested in singing may participate.
Junior Choir rehearsals take place in the school assembly hall on a Thursday afternoon from 2.10pm – 3pm.
Music rehearsals are underway again for the spring term. The Junior Choir are currently rehearsing for the Dungannon Music & Drama Festival, which is taking place on 5 March 2019. (Further details to follow). The children are working hard to perfect their two 'own choice' pieces – 'A dream is a wish your heart makes,' and 'Three Little Fishes.'
Sadly there will be no flossing in either of these pieces but a little hand jiving does feature in the little fishes song!
The orchestra, Senior Choir and other musical groups are working hard to put together a programme for our spring showcase, where they will join with Years 1,3 & 5 who will each perform an item of their own.
The Senior Choir have a few treats up their sleeves for their performance and are working hard to perfect their skills – they have chosen one of the pieces themselves by popular request from 'The Greatest Showman.' It promises to be a great performance! Further details regarding dates will follow.
Junior Choir
The Junior Choir worked hard this term polishing their songs for our 50th Anniversary Concert. Mrs Wallace had changed the words of "My Favourite Things" and "Congratulations" to tell about our school and the boys and girls sang them beautifully. The finale was joining with the Senior Choir and Staff Choir to sing "What a Wonderful World" which was a super experience for the children and a great end to our Anniversary year. Many thanks to all of them for their hard work and to the parents for their support in making sure the children learn their words, attend rehearsals and performances and are in full school uniform looking their best.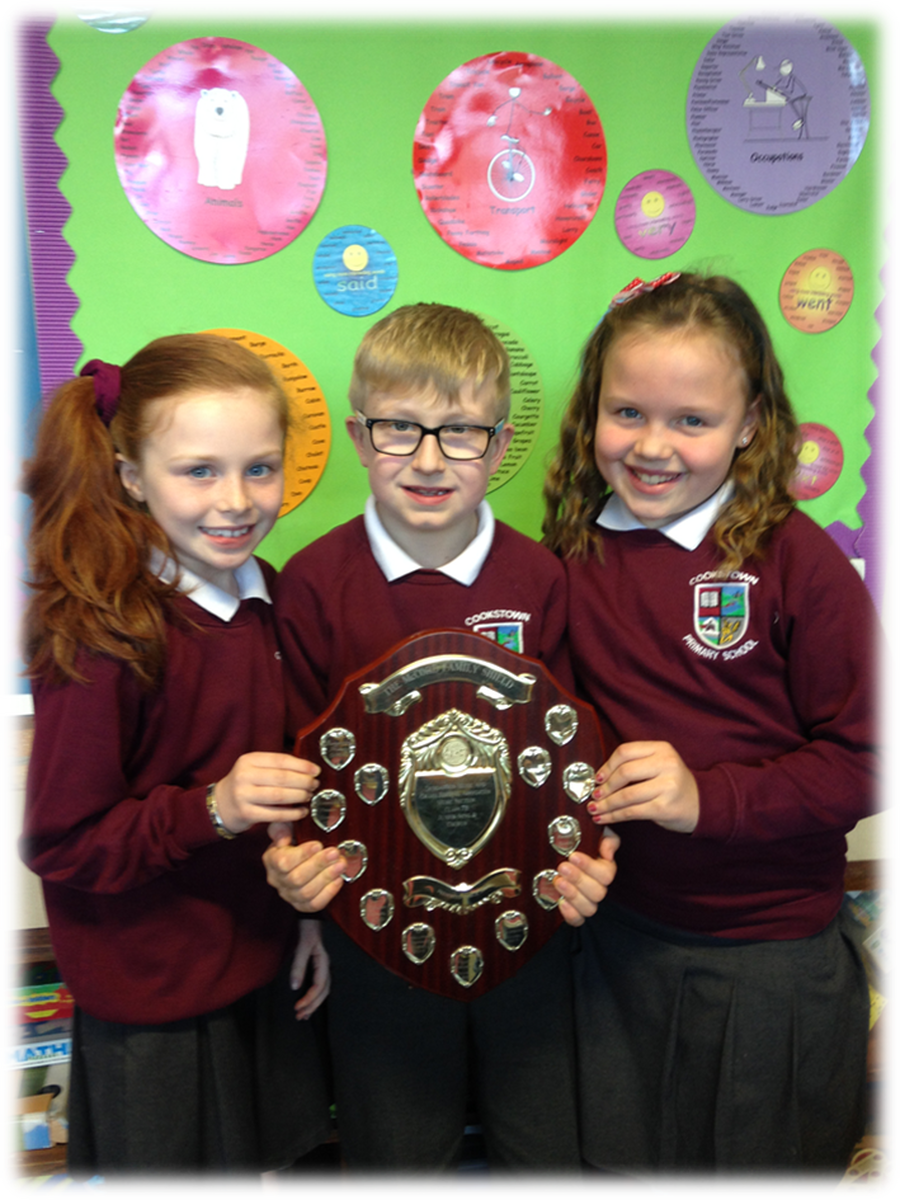 Junior Choir Winners of Dungannon Festival!

The Junior Choir practices every Wednesday afternoon in the hall. This term we were busy preparing for Dungannon Festival. The choir sang in the Junior Song and Chorus class on Friday 4th March. The choir sang two pieces – 'Dewdrops and Green Grass' and 'Over in the Meadow'. They performed brilliantly and sang their hearts out. We were delighted when we won the competition, coming joint first with Killyman Primary School. Congratulations to all who participated and did so well.
Rehearsal dates
Dates for term are as follows:
The choir runs from 2-3pm in the Central Hall for P3 and P4.