Wednesday 3.00 - 3.55pm Mrs Campbell (Girls)
Mr Black (Boys)
P5, P6 and P7 pupils welcome
Changing Areas: Boys - P7 (Mr Black)
Girls - P1 (Mrs Keys)
Please bring a gum shield and shin guards.
Ulster Hockey Blitz - Meadowbank, Magherafelt
On Friday 25th January, 3 teams of pupils from CPS travelled to Magherafelt to take part in the latest Ulster Hockey Blitz. Teams from all over Mid-Ulster took part in what was a fantastic day of hockey. All the boys and girls who represented the school played superbly, showing excellent sportsmanship throughout.
Well done everyone!
Pearson Cup Finals 2018
On Friday 20th April, the boys' hockey team travelled to Playball, Stormont, to take part in the Ulster Hockey Pearson Cup finals. The boys had a great day out at the tournament, and travelled along with teams from Donaghey PS and Moneymore PS.
Although the boys were not victorious, they did perform fantastically well, qualifying for the knockout cup stages. Out of the 7 games they played on the day, the boys had a record of 3 wins, 2 draws and 2 defeats.
A big well done to the boys for their hard work and commitment throughout the season!
Pearson Cup – Boys NI Primary School Hockey Finals 2016
On Friday the 15th April the boys' hockey team from Cookstown Primary School set off to take part in the NI Hockey Finals at Lisnagarvey Hockey Club, in Lisburn. With 24 teams from all over Northern Ireland taking part it was sure to be a great day's hockey.
To begin with the boys were placed in group 2 along with Bocombra PS, Strandtown PS, Milburn PS, Mossley PS and Spa PS. The boys played exceptionally well winning all six matches, scoring 10 goals and conceding none.
As group winners, the boys entered the main cup competition and in their first match outplayed Edenderry PS, Banbridge, to win 4-0. This was all the more pleasing, as only a week before Edenderry had knocked the boys' team out of the Décor Trophy, defeating them 1-0!
In their second group match the boys were up against Templepatrick PS and the match ended with Cookstown comfortable 2-0 victors. These two victories meant that the boys had qualified for the semi-finals of the Pearson Cup, where they came up against Friends school, Lisburn.
The semi-final was a great spectacle of schoolboy hockey, with both sides evenly matched. There were shots that hit the post, chances missed at both ends and some outstanding hockey skills on show. It took a fine shot from Mark Cuddy to edge the match in Cookstown's favour, and the boys were able to hold out until the final whistle, winning 1-0.
In the final the boys came up against Edenderry PS, Portadown, a team who they hadn't faced before. The opening minutes of the match were very nervy with limited opportunities for both sides. However, as time went on, Cookstown began to settle and scored two goals in quick succession, the pick being a well-timed deflection by Harry Bownes. The final ended with Cookstown winning 2-0; a thoroughly deserved result.
It was a great honour for joint captains, Mark Cuddy and Jordan Young, to receive the Pearson Cup from Mr David Larmour, President of Ulster Hockey, a man who has a long history of being involved in Cookstown Hockey and who also happens to be a past pupil of our school.
Winning the Pearson Cup for the second year in succession was a fantastic result for the boys' team, made all the more special by the fact that throughout qualification and the finals themselves, the boys did not concede a single goal!
Everyone as Cookstown PS is extremely proud of the boys' hockey team and their achievement in winning the Pearson Cup! Well done boys!
Team: E. Hobson, E. Cruickshank, J. Donnell, M. Cuddy, J. Young, H. Bownes, J. Steenson, M. Steenson, G. Simpson, S. Gillis.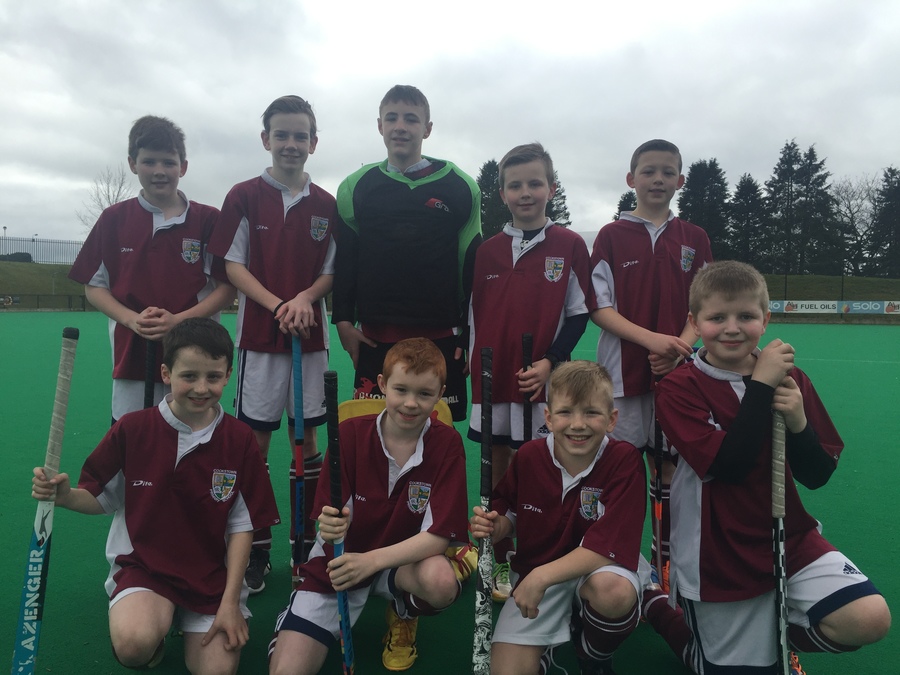 Tri-County Hockey Tournament
On Thursday 10th March the boys and girls hockey teams made the short journey to Cookstown High School to take part in the local Tri-County hockey blitz. On what was a very sunny morning, both the boys and girls teams played outstandingly well and showed some excellent skill and teamwork in all matches. The girls' team in particular performed very well and ended up victorious; winning all three games they took part in.

Well done to all the boys and girls who took part!
Girls results –
Cookstown PS 4 – 0 Woods PS
Ballytrea PS 0 – 1 Cookstown PS
Cookstown PS 2 – 0 Moneymore PS
Boys results –
Cookstown 0 – 4 Orritor PS
Ballytrea PS 0 -2 Cookstown PS
Cookstown PS 0 – 2 Moneymore PS
Girls' Hockey
The girls A and B hockey teams have played two matches in the lead up to their Northern Ireland Qualifiers Tournament to be held on Friday 11th March. The girls played a match away to Hart Memorial Primary School and another at home to Dromore Primary School. The girls have really enjoyed these matches and have been gaining valuable match experience for the tournaments ahead.
Boys Hockey
The boys' hockey team recently completed their Mid-Ulster League campaign with two victories away to Millington PS (2-0) and Hardy PS (2-1). Although it wasn't enough to see the boys' team progress from their group, the positive results will ensure that the team enters the NI schoolboy Qualifiers on 14th March full of confidence.
Pearson Cup – Boys NI Primary School Hockey Finals
To begin with the boys were placed in group 4 along with Armstrong PS, Stranmillis PS, Londonderry PS, DH Christie PS and Braidside Integrated PS. The boys played exceptionally well winning all six matches, scoring 14 goals and conceding none.
As group winners, the boys entered the main cup competition and in their first match played out a fiercely competitive 1-1 draw with Inchmarlo PS. After Inchmarlo PS had beaten Ballydown PS 2-0 in their next game, the boys knew that nothing less than a 3-0 win would see them qualify for the semi-finals. Spurred on by the support of travelling family and friends, the boys stormed to a convincing 4-0 win, and carried that form into the semi-finals where they repeated an earlier victory over Stranmillis PS, running out 3-0 winners.
In the final the boys came up against Gilnahirk PS from Belfast and were not quite sure what to expect. After a nervy opening few minutes, the boys finally found their rhythm and it wasn't long before they found themselves 3-0 up. After further goals and numerous substitutions, that allowed all the players to play a major role in the final, the boys eventually ran out 5-2 victors and the celebrations began. The Pearson Cup would be heading back to Cookstown PS for the first time since 2005!
A big thank you has to go to all the supporters who made the trip to Lisburn to cheer on the boys and also to Tim Anderson and Linda Black for their help and support on the day.
Northern Ireland School's Hockey Finals
On Wednesday 29th April the girls' hockey team from Cookstown Primary School took part in the Northern Ireland Schools Hockey Finals having been crowned Fermanagh and South Tyrone champions a few weeks previously.
The girls got off to a great start winning one, drawing two and losing two of their matches. They subsequently qualified for the plate competition in the afternoon. The girls beat Warringstown 2-1 and Wallace Prep 3-0 to qualify for the semi- finals. In the semi- final the girls faced Ballyclare and after a very tight match the score line finished 1-1. Unfortunately extra time was played and the girls lost on golden goal.
The girls played extremely well and should be very proud of their performance on the day! Well done girls.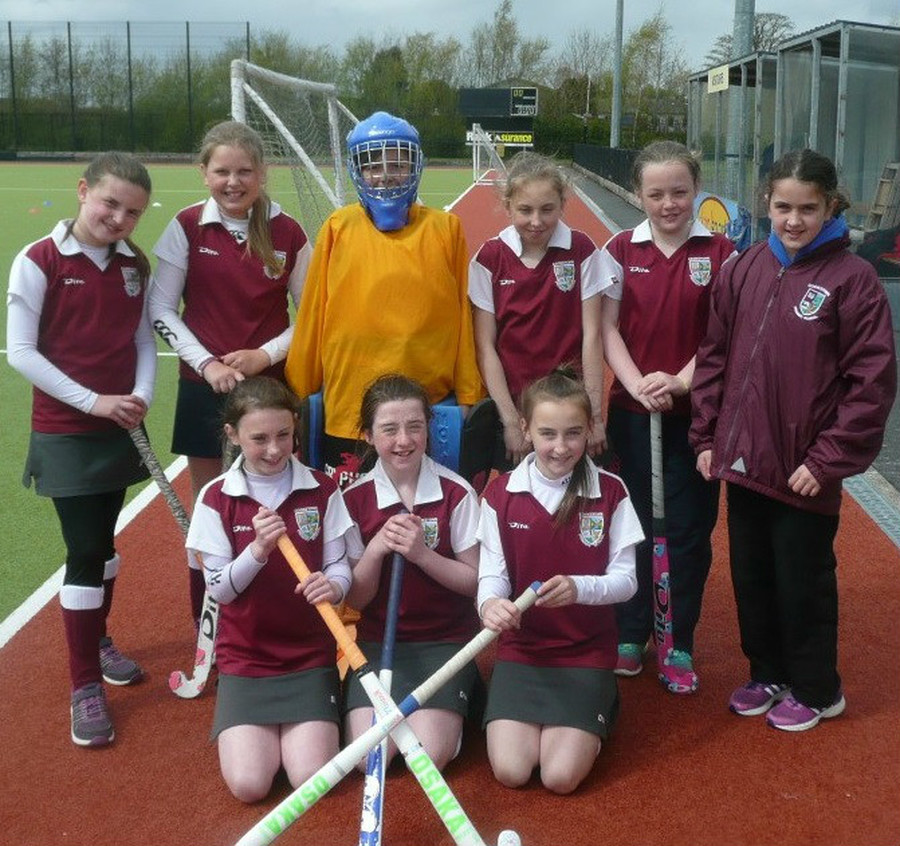 Girls win Western Regional Qualifying Tournament
On Wednesday 19th March a squad of 10 players from Cookstown Primary travelled to Omagh to compete in the Western Girls' Regional Qualifying Tournament. There were 10 schools represented and the results were as follows:-
CPS 3 LISBELLAW 1
CPS 2 COOLEY 1
CPS 3 JONES MEMORIAL 0
CPS 3 OMAGH INTEGRATED 0
With such excellent results CPS qualified for the semi-final against Kesh Primary and won that 3-1 and then in the final beating Gibson Primary 2-0 to become the champions of the western region. Freya Kennedy was the main goal scorer (10) with goals also from Charlotte Stewart (5) and Olivia Donnelly (1).
A great day was had by all and a well done treat in KFC was the perfect end to a perfect day! The girls now look forward to competing in the NI Finals at Lisnagarvey on Wednesday 2nd April.
TEAM: Alana Gilmore, Lily Crooks, Emily Watt, Kristyn Cuddy, Charlotte Stewart, Olivia Donnelly, Ellie McKay, Rebecca Hamilton, Freya Kennedy, Kaitlyn McBride.
Timetable
Dates for Term 2A are as follows, only selected pupils to attend. Any queries speak to Mr Coulter or Mrs Keys.