Green Day
Green Flag assessment was carried out on Monday 11th June. The Eco council were questioned on how they achieved their targets of improving healthy living, cutting back on waste and making pupils aware of Global issues including climate change. A big well done to all of members of the Eco Council who worked so hard to ensure that Cookstown Primary School is an eco friendly school.
The School enjoyed a Green Day when all children got a chance to dress up in Green and enjoy a day of outdoor activities whilst thinking of ways of saving energy and the 3R's of reducing, reusing and recycling.
4th March 2019
We are collecting plastic bottles tops from milk cartoons and juice bottles in support of Guide dogs for the Blind.
Please leave in collection bin in school porch.
The Eco team are working hard this year to achieve their 3rd green flag. This year they are concentrating on reducing waste, developing healthy living and promoting global awareness. The school has been reducing waste by collecting compost and recycling. We also collect batteries and glasses, so please feel to send these into school.
The eco team have made us aware of the over use of plastic and the dangers it causes to animals in the sea. Please remember to reduce your use of plastic. We are also trying to become healthy by thinking about what we are eating. The eco team will be presenting a healthy eating PowerPoint in assembly. The school has also enrolled in a Superhero's programme which will involve the children doing more exercises in class, during PE time or even when they are lining up!
Finally the eco team would like to raise global awareness issues. The school raises money for charities in different parts of the world. We support Cookstown High School pupils who go to Romania to help children that are orphans. We run an International week in May so that children can learn about other cultures and their foods.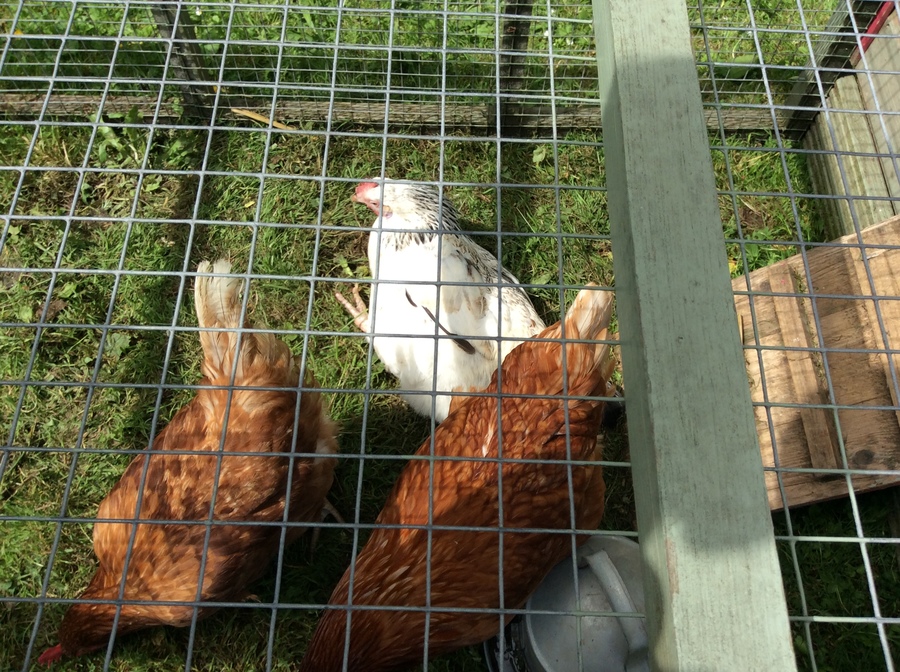 Eco Team News
The Eco team have continued to work hard this term. They entered the Best Kept School Competition in May. The team gave the judges a tour around our impressive school grounds by showing off the sensory garden with its new den, the willow maze, the lighthouse rockery, the vegetable patches, the hanging baskets and the new sit down area. They showed their creation of Herbie the rainbow snake which was made from recycled food tins, painted with different colours and then planted with herbs. They also used recycled coke bottles for planting succulents to make them look like hedgehogs. The judges were shown the polytunnel with all its flowers in bloom and fruit and vegetables. This year they have been growing corn for the first and are looking forward to having it for tea and maybe even as a treat for the cinema!! The Gardening club have been taking care of our three school hens, Mia, Minnie and Maggie who have been laying eggs for us!!
We are awaiting results of this competition and have fingers crossed that the Eco team and the Gardening Club will get a good result.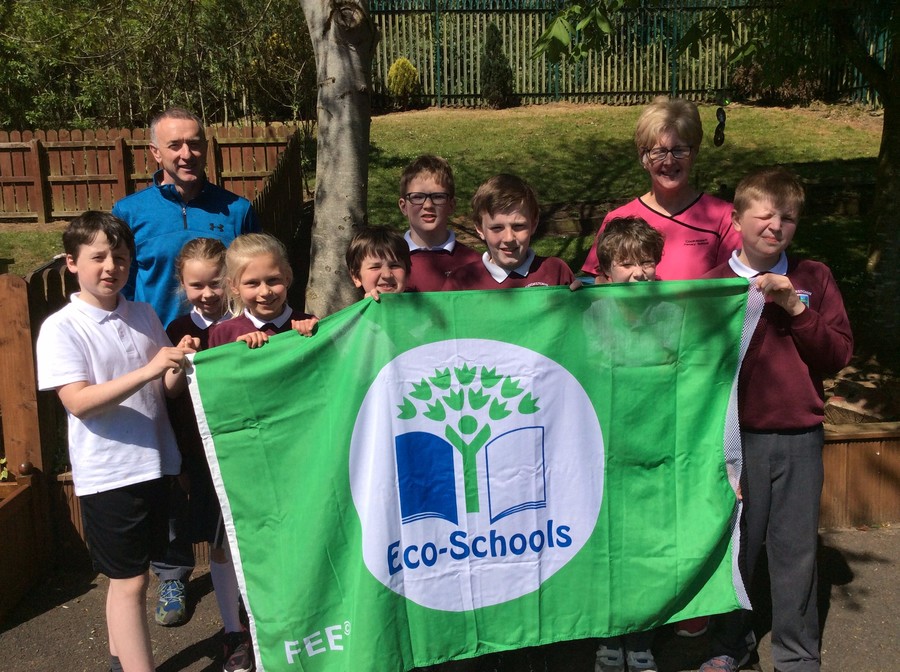 Green Flag Assessment
The Eco team at Cookstown Primary School are delighted to announce that they have now received their 3rd Green Flag. The school was assessed by Eco Schools on Wednesday 3rd May. They were very impressed by the Eco work carried out by the Eco team. This year the children worked on Saving Water, Litter and Bio Diversity. The Eco team were able to talk about measures which they have put in place as part of their Eco action plan. They have been Saving Water by checking that water taps are switched off, by displaying posters in the School toilets and by encouraging us to use less water. As part of their Action Plan for litter they have carried out litter picks around the school and have displayed litter posters around the town to remind us not to litter. Their main topic was Bio-Diversity which the Eco team and the gardening club have really excelled in. They have been growing lots of flowers, fruit and vegetables in their new poly tunnel which was funded by the Parents and Friends' Association. They made a den in the sensory garden from branches and are in the process of making a water feature. They water the flowers and keep the garden tidy. The Gardening Club has made the garden a great place for us all to enjoy.
Thank you so much for all your hard work.
Members of the Eco team 2016 to 2017
These members have been working on their action plan of Saving Water, Litter and Bio-diversity. They have been making posters for display around the school and the community. They have been helping out in litter picks and have given a recycling talk in assembly. The team are now in a position to apply for their 3rd green flag. Well done everyone!!!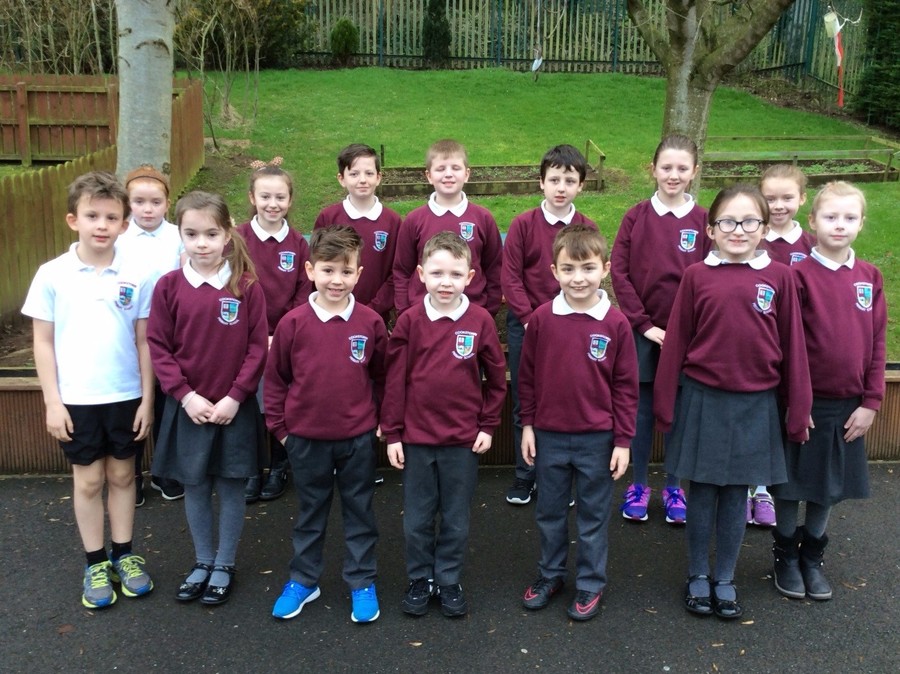 ECO News
The Eco team have been meeting this term. They have been writing their own action plans on how to Save Water, on how to prevent Littering and on how to develop gardening (bio diversity within the school). In our next meeting we will be designing a poster for our Eco code. Please support us at home also by doing your bit for the environment, as the children at Cookstown Primary School encourage us all to be more eco friendly.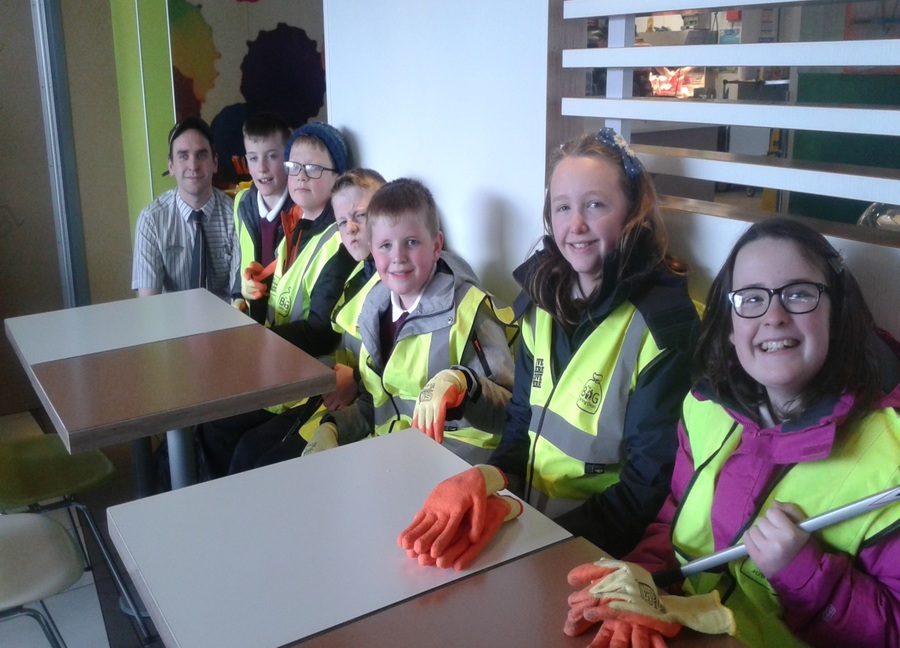 Happy Meals and a happy Eco Team!
Members of the Eco team with past pupil Ben Tierney, Manager of McDonalds being informed of McDonalds policy on recycling. He told the children that McDonalds aims to recycle 20 percent of their waste. They recycle cardboard, paper and food waste for compost. The children also did a litter pick around Gortalowry Estate, enjoyed a recycling talk and were then treated to a Happy meal for all their hard work.
Parent we hope you don't mind!!! The children certainly enjoyed the treat. And on the way back to school we did a litter pick of the school grounds, so they really did deserve it.
Eco Council News
The Eco Council is continuing to push forward their Eco target of SAVING WATER. They have taken measures to reduce water usage in school and at home. The simplest and most effective measure has been to switch off the water tap rather than leaving it running unnecessarily.
The Eco Council would also like to thank you for your collection of bottle tops. So far this year we have managed to fill two domestic wheelie bins. The bottle tops are then recycled and the monies from this has purchased one wheel chair. Please send any type of plastic top to school with your child. You can leave them at the back of the kitchen or leave in the brown bin at the office.
Saving water is top priority for the Eco Committee
This term the Eco club are working on saving water. Did you know that it takes 7 times more water to produce coffee than tea and that it takes 2400 litres of water to make a beef burger compared to a chicken fillet which takes 683 litres of water. Can you help us to reduce the amount of water we use for one day by having tea instead of coffee and chicken instead of beef? Are there other ways you can help us to reduce the amount of water we use? We have joined an exciting new programme called Water Explorer. We are linked to other countries to find ways of saving our water. By saving water we are also saving the amount of electricity we use to filter the water. Hence causing less pollution to go into the air which all has an impact on Climate Change.
The Eco Committee
The Eco Committee with members from Mid Ulster District Council. The Council are launching their promotion of Environmental issues and Recycling within schools. They will be giving support to schools in the way of presentations, promoting recycling, providing litter pickers for litter picks and fun recycling games. The Council will be helping us to promote European week for Waste Reduction which runs from 21st to 29th November. This week encourages everyone to be more sustainable. Every Spring they organize an Environmental Youth Speak, a competition which gives our pupils an opportunity to research and debate environmental topics. Over the next two years the Eco Committee will be working to achieve their 3rd green flag. This year we will be considering global issues and the Refugee crisis.
Second Green Flag
Cookstown Primary School are pleased to announce that they have gained their second green flag. The eco team have been meeting every Wednesday and planning their action plan to reduce, reuse and recycle. This year they concentrated on the impact of climate change and how the children at Cookstown Primary School could help reduce their carbon footprint. They have tried to cut back on waste by encouraging WRAPPER FREE WEDNESDAY. They have been asking the children to bring their breaks in a recycled container without any wrappers. They have also planned 9th June as a day without any electricity in school and at home…. The judges were so pleased with the work of the school Eco team that they are using the school as a case study which will be shown on the Eco school website.
Mrs McErlane would like to thank the eco team for all their hard work and looks forward to working with new and old eco warriers next school term.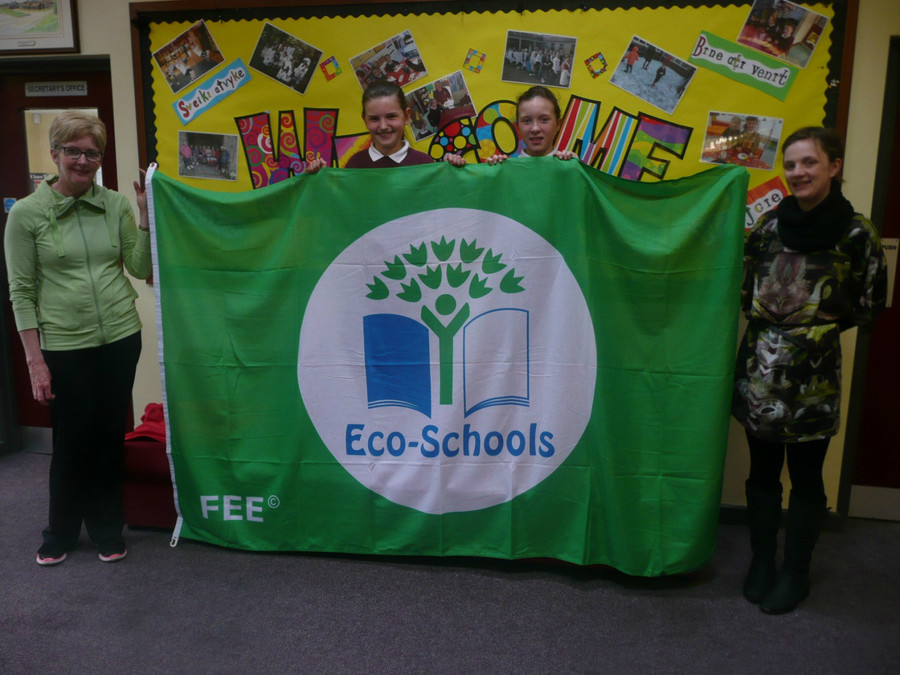 Eco Team clear up
The Eco team teamed up with pupils from Holy Trinity Primary School and Holy Trinity College to undertake a litter pick around the grounds of Fair Hill Park. This event was organised by Marcus Blemmings from Cookstown District Council and was sponsored by Asda. Asda kindly gave the children a goodie bag on the completion of their hard work!!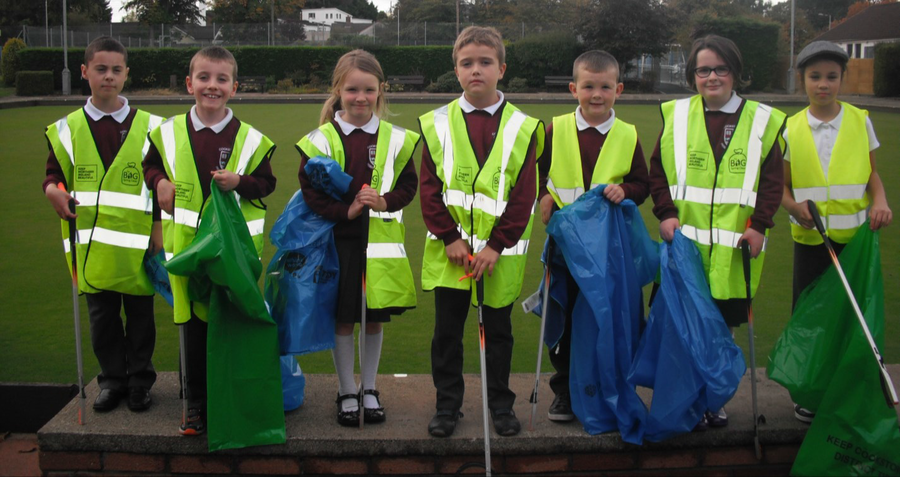 Environment Minister visits Cookstown Primary School
The Environment Minister, Mark Durkan, came to Cookstown Primary School to see exactly what the Eco Team get up to. We were proud to show him our new Sensory Garden and talk about the vegetables and flowers which the Gardening Club have been growing. He was also shown the indoor garden which the Learning Support Class enjoy using. The Environment Minister was very impressed with the work which the Eco team have been doing. They talked about litter picks around the school grounds and their intention to participate in the Big Spring Clean. They also explained that they have signed up to 'Adopt a Spot' and their promise of keeping the school avenue litter free throughout the year. They talked about Waste Week which they ran in school and their efforts to recycle, to reduce waste and to save energy. He left a very pleased Environment Minister.
Eco News
The Eco team has been working hard over the past two years and are very proud of achieving Green Flag status. The school has a lot of environmental issues in place. Every class is involved in Reducing by trying to cut back on waste, Reusing by reusing junk material for art work and Recycling by using the blue bin. We also try to save water and paper in the school. The children are also very aware of saving energy by turning off computers and lights when not needed.
The school will be participating in non waste week and switch off fortnight during the month of November.
Litter Pick
On Tuesday 17th October Pupils from the Eco team at Cookstown Primary School teamed up with the Environmental Officer Mr M Blemmings and volunteers from ASDA to undertake a litter pick around the school grounds. They did collect quite a bit of litter and would like us all to remember to PUT OUR LITTER IN THE BIN.