Sea Cadets
The Junior Section of the Coolnafranky Sea Cadets has gone from strength to strength since it was first formed in January 2018. As the only Junior Sea Cadet Unit established in a school in Northern Ireland, we are extremely proud of our cadets and cannot believe the progress that they have made. Earlier this year we received confirmation that we had been selected to be part of a ground-breaking project that allowed units to enrol Junior Cadets once they reached the age of 9. We grasped the challenge enthusiastically and were completely amazed when we nearly doubled then strength of the section!! With over thirty junior cadets regularly parading on a Tuesday afternoon, our section is now seen as one of the most successful in the North of England, Scotland & Northern Ireland and we hope that even more young people will have the opportunity to join us during the course of the 2019/20 academic year.
Recently, the Marine Society's Marine Engineering Pod visited Cookstown primary School. Existing cadets and potential new recruits took the opportunity to find out more about engines and were completely amazed when the staff were able to start up a diesel marine engine in the school playground … ear defenders were definitely required!!!
Summer Reading.
To discover how important it is for your child to read over the summer holidays, check out the following poster. The Big Summer Read 2019 organised by the library is a great way to motivate them.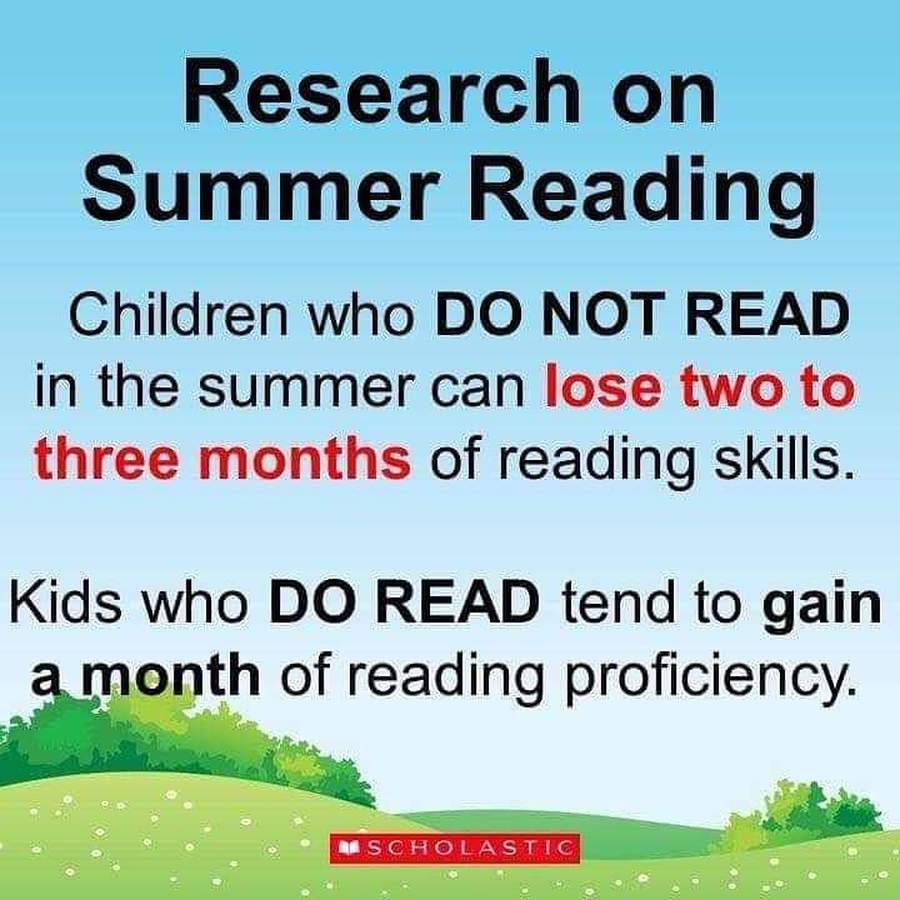 Healthy Eating Week.
In celebration of Healthy Eating Week, which ran from 10th – 14th June 2019, pupils in Cookstown Primary School were being reminded of the importance of healthy eating; drinking plenty of water, getting regular exercise and a great night's sleep.

With the support of the Education Authority's (EA) Catering Service, pupils were being encouraged to try different vegetables every day at lunch time and enjoying fresh fruit desserts, including fresh fruit kebabs and fruit salad.
Colour Run
The Parents and Friends of Cookstown Primary School have arranaged to host a Colour Run to help them raise the funds required to move forward with the refurbishment of our Computer Suite and to develop the new 'Library Bus', that we hope will arrive in the near future.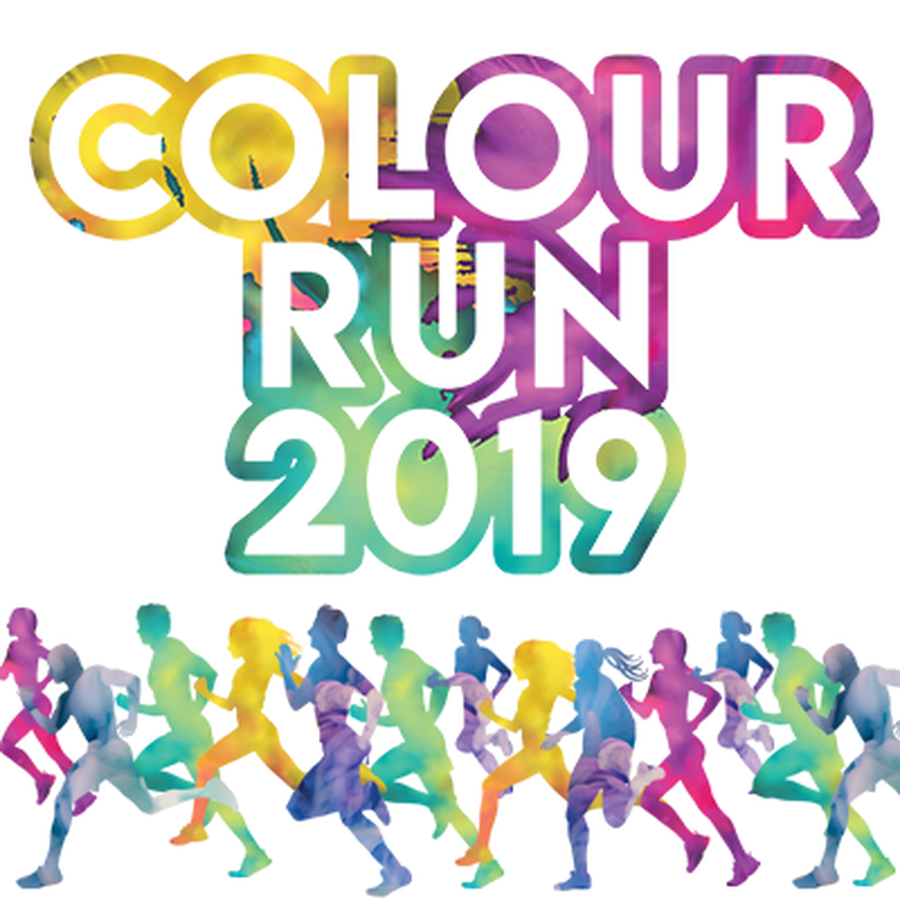 To inspire our pupils and you as parents, the group will be staging a Colour Run on the afternoon of Friday 21st June 2019. There will be special 'races' for: P1-3, ASC/LSC and P4-7 which will incorporate a warm up, run and a publicity shot at the end. We hope as many children and adults as possible will participate, to help us raise the needed much funds for our two key projects.
Each person hoping to take part needs to seek sponsorship from friends and family. The first £10 raised allows you to participate, as it covers the cost of registration, a Colour Run T-Shirt and glasses. All additional money raised will go directly to the Parents & Friends Association to help fund our projects.

In order to allow the P&F to properly plan for this event, all those that wish to participate are asked to complete a registration slip or contact the school office no later than 3.00 pm on Monday 10th June 2019.
Chelsea Pensioners
During the course of their short visit, WO2 David Wright (from Portsmouth) and Sgt Willie Frazer (from Armagh) toured the school, prior to answering questions and relating their experiences to staff / pupils from Yr 3, 4, 5 and 7. The younger pupils and their teachers were mesmerised by the two gentlemen's' accounts of their experiences, while the older pupils (and staff) took the opportunity to ask questions about the pensioners experiences serving their country and since they had become residents of the Royal Hospital.
(To find out more about the Royal Hospital Chelsea please follow this link - https://www.chelsea-pensioners.co.uk/)
Sgt Willie Frazer BEM, who served for 22 years in the Royal Irish Fusiliers / Royal Irish Rangers talked about his service memories prior to giving an entertaining account of life in the 'Royal Hospital', while WO2 David Wright, who served for over 21 years with the Royal Engineers completely engrossed the audience with his account of how he had been ordered to observe the Atomic Bomb tests on Christmas Island in the late 1950s. (https://en.wikipedia.org/wiki/Nuclear_weapons_and_the_United_Kingdom)
Kym initially competed as part a primary school team made up of pupils from four different schools. The team made up of: Kym (Cookstown PS); Jessica (Omagh County PS); Emily (Castledawson PS); and Zara-Jane (St Laurence PS) came second overall having only missed on picking up the top prize by 0.4 seconds!!
In the individual competition, Kym was 3rd on her pony Rosie. However, the day finished on a real high when Kym was declared Overall Winner at Drumragh Integrated College Inter-School Equestrian Competition on her pony Paddy.
World Book Day 2019
As in previous years, many pupils and teachers came to school dressed as their favourite book characters. The children also took part in colouring in and character description competitions, as well as writing a whole-school story and talking in class about their favourite authors and stories.
School Refusal Parent Workshop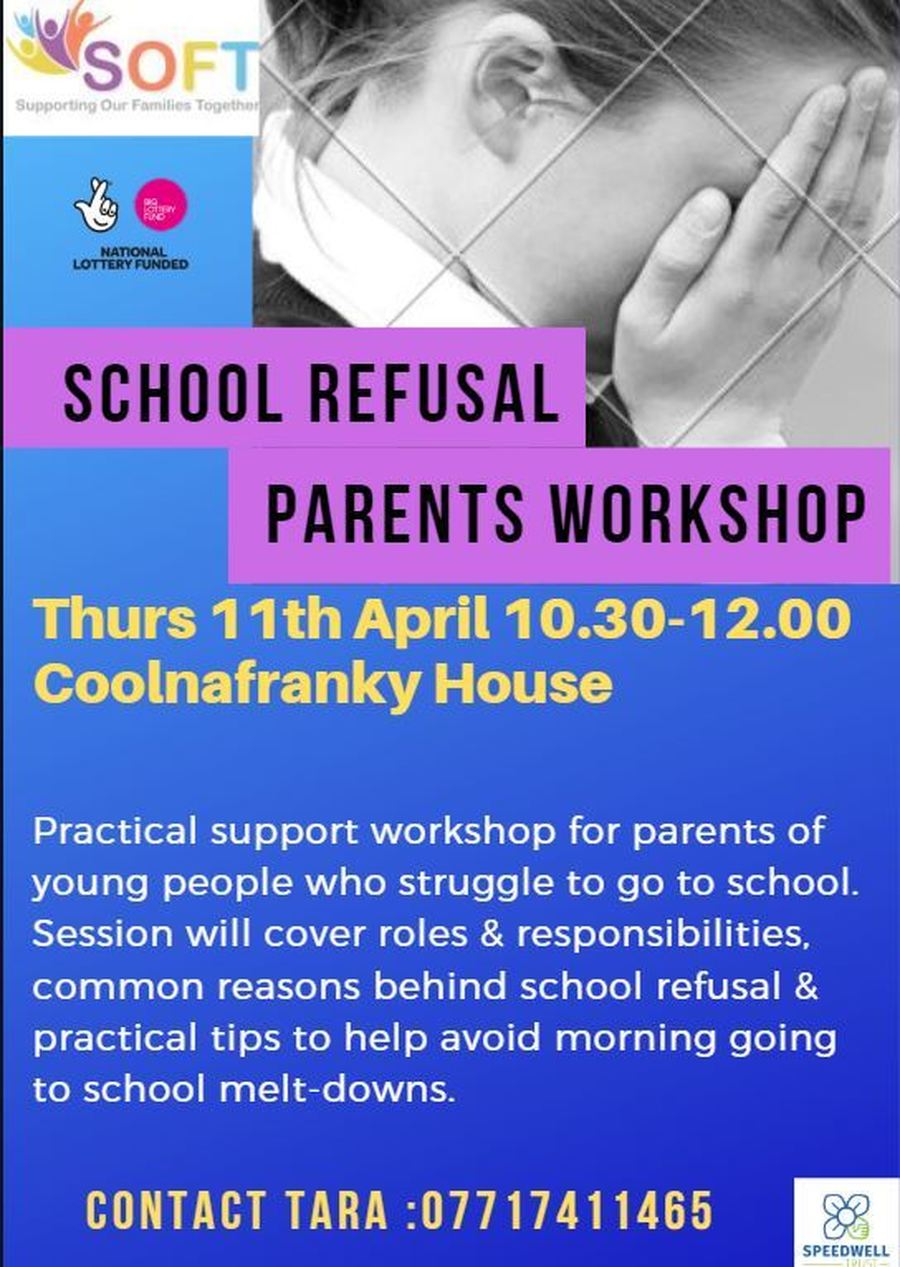 27th February 2019
Important message for all Parents / Guardians
There is mounting concern regarding a game which encourages users to cause themselves harm, and in some cases may lead to suicide. It is currently "targeting" Northern Ireland children. It has resulted in the PSNI putting out a Northern Ireland-wide alert to warn parents of the potentially deadly dangers their children could be exposed to.
In this fast developing digital age, Internet safety and child welfare is extremely important. Below is a very useful parent information fact file on 'The Momo Challenge' from St Anthony's Primary School. We would encourage all our parents / guardians to take the time to read this article.
_______________________________________________________________________________________
Parenting Top Tips NI.
The school recently received hard and electronic copies of the following Parenting NI Helpful Tips Leaflets:

- Improving Communication
- Mental Health
- Managing Emotions
- Dealing with Bullying
- E-Safety
- Managing Child Behaviour
- Building Resilience
- Friendship Skills
- Improving Self Esteem
- Promoting Independence
To access these helpful leaflets please click here. Alternatively the school office will provide you with a pocket size copy of any of the leaflets upon request.
Rainey Athletics Event
On the 24/01/19 28 pupils from Primary 5 enjoyed a trip to the Rainey Endowed School, Magherafelt for day of athletics in the Rainey's new Sports Hall.
The children really enjoyed taking part in various events across the three disciplines of Athletics; running, jumping and throwing. The day finished with a number of team relays and also some fun athletics. The pupils would like to thank all at Rainey Endowed School for the excellent opportunity to take part in this athletics competition.
Primary 1 Open Evening/Morning
On Tuesday 15th January 2019 and Wednesday 16th January we held our Primary 1 Open Evening and Morning for prospective primary 1 pupils. The children and parents were welcomed to the school by the principal, before being introduced to life in Primary 1 by Mrs Keys and the other Primary 1 teachers and staff. Following this the parents were then given a guided tour of our wonderful school facilities, whilst the children enjoyed some more time playing in the classroom. Thank you to all the parents and children who attended. We hope to see many of you soon!
SOFT Residential Bonding Event.
Family residential event, open to both existing SOFT families and new families who would like to register with the project (with a young person 4-12 years attending one of our partner schools). This event will be fully catered and transport is provided to the Crawfordsburn venue. Families can contact us on the number provided for further information and places will only be secured only upon receipt of the deposit which can be left into Coolnafranky House.
Please contact SOFT directly on 028 867 69152.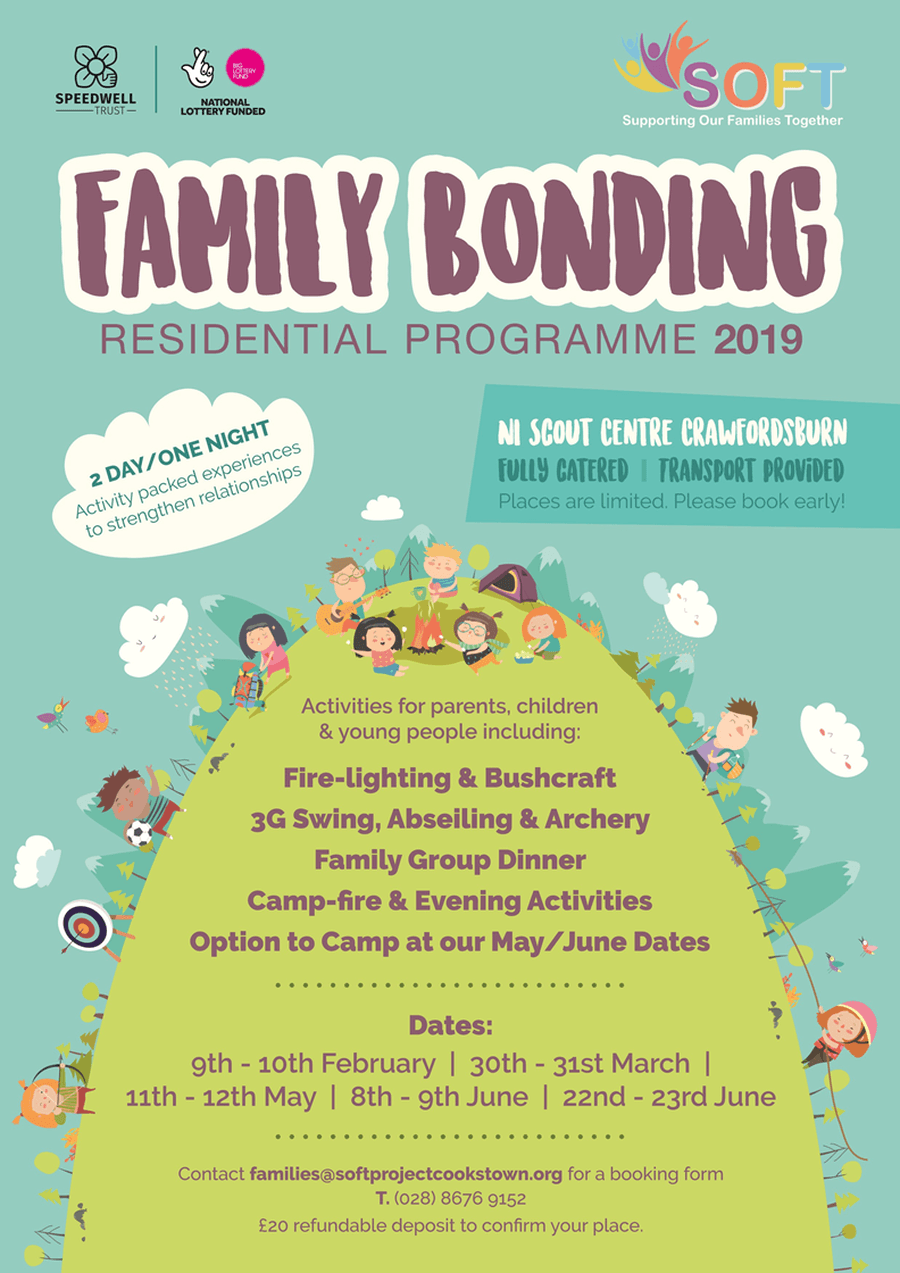 Mid Ulster Recycling Heroes succeed at battery recycling challenge!
In support of this year's European Week for Waste Reduction (EWWR), which took place from 17th – 25th November, Mid Ulster District Council encouraged residents to play their part by recycling more batteries than ever before!
Schools across Mid Ulster rose to the challenge by asking pupils to bring their old batteries into school for collection in battery recycling boxes. A total of 30 schools had their battery boxes filled and collected for recycling and were rewarded with a rechargeable battery pack, to reduce their battery usage.
The schools were also entered into a draw to win three fantastic recycling bins! Prizes were sponsored by the Council's Waste Electrical Recycling Partner, ERP UK Ltd.
The lucky winning school, Cookstown Primary School, was presented with their recycling bins by Councillor Sean McGuigan, Deputy Chair of the Environment Committee.
Councillor McGuigan said, "Congratulations to Cookstown Primary School on winning the EWWR battery competition. With their new recycling bins in place, separating waste for recycling will be even easier in their school.
"I am delighted, and astonished, by the brilliant response from Mid Ulster's recycling heroes, particularly in our schools, and the fantastic effort they all put in to increase the district's battery recycling. Each school recycled approximately 100kg of batteries, this means around 3 tonnes of batteries were saved from landfill and sent for recycling instead!
"We can all be recycling heroes by taking small, simple everyday actions – such as recycling batteries at any of the Council's recycling centres or returning them to retailers with battery recycling banks. These small actions add up to make a big difference."
The aim of EWWR is to encourage everyone across Europe to reduce the amount of waste produced.
Remember to take the Council's online recycling quiz to find out if you're a recycling hero or a zero! Go to: www.midulstercouncil.org/recyclinghero.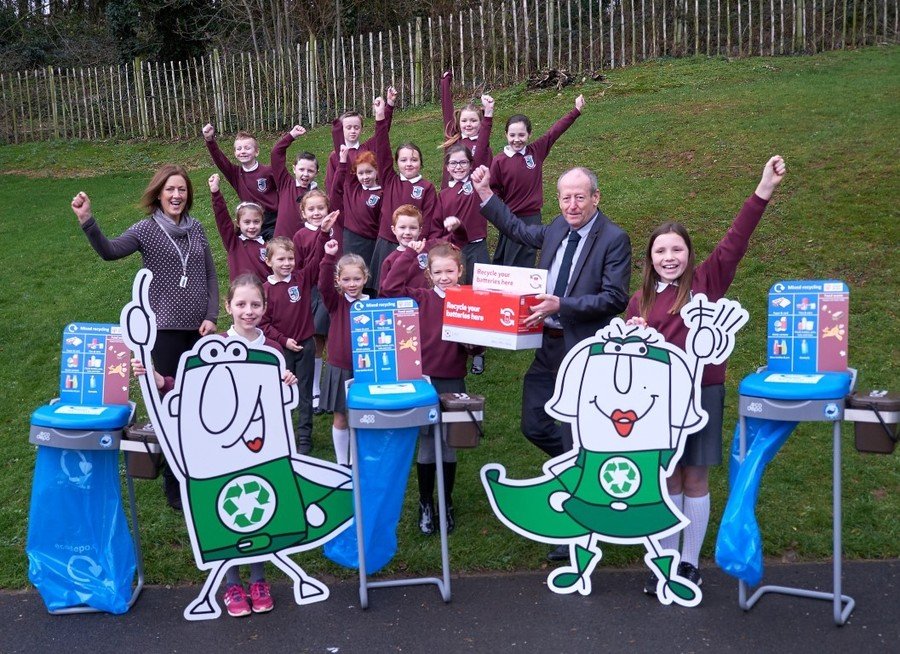 'Walking in a Winter Wonderland'
Mid-Ulster in Harmony 2018
This year over 600 pupils and staff from 22 schools came together with 30 invited representatives from the local community to celebrate Christmas at what has become an integral part of the primary school calendar. Pupils from Holy Trinity Primary School welcomed the audience to Mid-Ulster In Harmony 2018, before Mrs Sheila Devlin (Principal of Holy Trinity Primary School) took a few minutes to point out how important this event is to the young people of the Cookstown Area.
Mid-Ulster In Harmony continues to attract support from Mid-Ulster District Council and the local business community as it is seen as an important means of making sure that our children come together on a regular basis. This year, the management committee were delighted when the council's Good Relations Committee agreed to support the event.
When interviewed after this year's event, Mrs Laura Swaile, the Chair of Mid-Ulster In Harmony took time to thank the council for its continuing support pointing out that this annual event could only continue to work with the young people of our area with the support of local government, local businesses and other charitable organisations.
This year the Charity Appeal, benefitted St Vincent De Paul and the Vineyard Church, whose Food Banks support families in need at what can be a very challenge time of year.
23rd October 2018
Poppy Appeal
Cookstown Primary School were delighted to be able to launch the 2018 Poppy Appeal within the school earlier today following the arrival of a special guest. Poppies and other memorabilia will be on sale within the school from Wednesday 24th October.
Kym Moore P7
Kym was representing Cookstown Primary School in the first round of the TRI Equestrian Inter schools League on Saturday 22nd September.
Kym was placed 4th and 6th individually and her team made up of two girls from Woods Primary School and Loanends Primary School were placed 3rd. Congratulations to you all!
Maths Week
Math's Week is fast approaching and we are beginng to get excited. While the team at CPS always try to encourage our pupils to look at numeracy from a variety of angles, we are keen to focus on Numeracy as a 'living' subject from Saturday 13th - Sunday 21st October. In school we will be doing lots of practical and fun numeracy activities and we would encourage you to use as much numeracy at home as you can. For example; count in 2s as you walk up or down the stairs, work out how long their favourite TV programme lasts or helping out with shopping.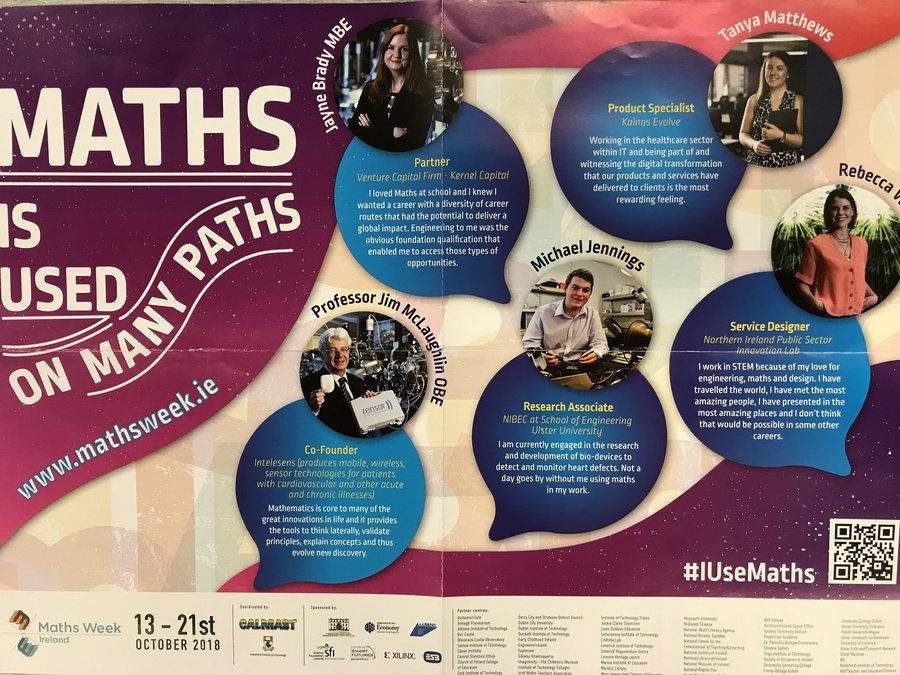 We now host birthday parties!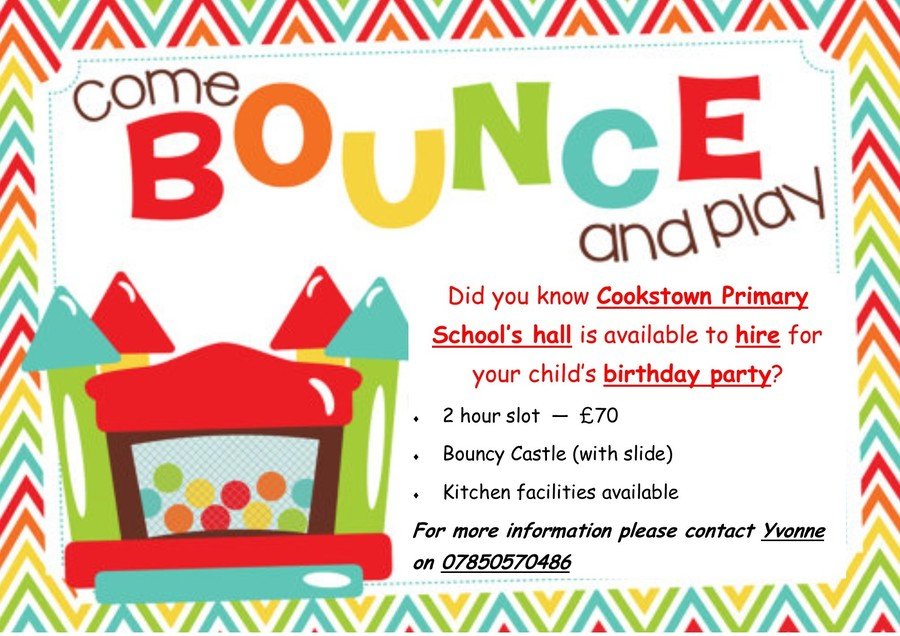 Belfast Marathon
Pictured below is Trevor Allen presenting Cookstown Primary school's Autism Centre with a cheque for over £2300! Trevor ran the Belfast Marathon earlier this year and decided to donate the funds he rasied to our school. The Autism Centre are planning to purchase 'Attention Autism' materials and also sensory equipment. Many thanks to Trevor for this very generous gift!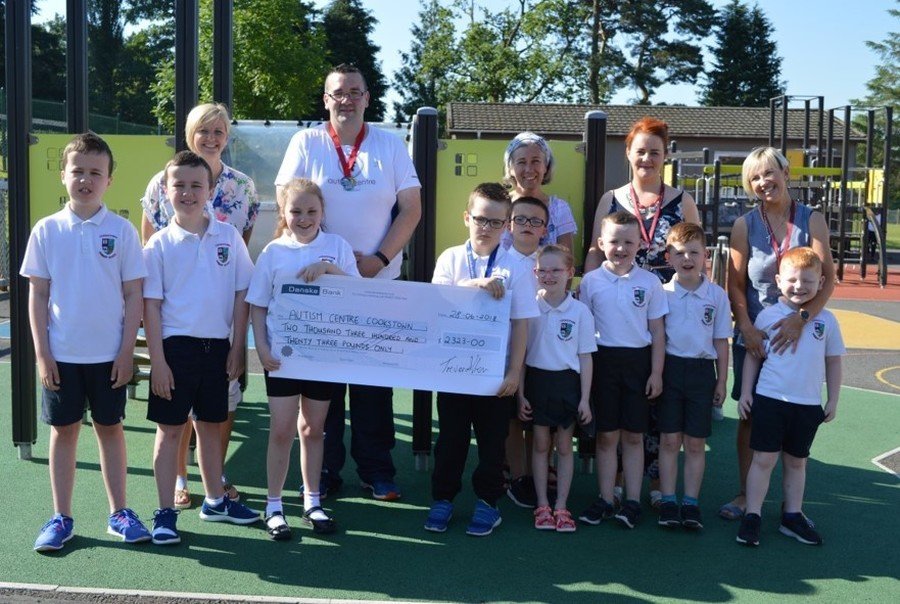 Charis Cancer Care
A truly amazing amount of £1510 raised by our school for Charis Cancer Care. The cheque was presented to Veronica Morris. Sincere thanks to our staff and parents for supporting the pupils in their fundraising in memory of Mrs Denise Lyle who passed away recently.