World Book Day
On Thursday 1st March we celebrated World Book Day. We had great fun dressing up as our favourite book characters or simply in our favourite clothes whilst raising money to purchase new books for our school. Look at our amazing costumes below!
Shared Education Science Lesson
We enjoyed carrying out a fair science test with our new friends from Holy Trinity to find out which material (denim, polyester, nylon and wool) would make the best raincoat! We made our predictions, tested and recorded our results.
We discovered nylon was waterproof but wool, being water resistant, was a close second!
Rounding to the nearest 10 & 100
Racing along and rounding numbers to the nearest 10 and 100!
Practical Maths
Learning about the properties of 2D shapes is fun – especially when you get to sort the shapes in a Venn Diagram and create animals with the shapes! We also made 'right-angled monsters' to help us find square corners in our classroom and homes!
Thank You!
A very sincere 'Thank you' to the pupils in Year 4, and their parents, who raised an amazing £120 for Hope For Youth Ministries! The money has already been put to good use helping young children in Poland by Cheryl, who was in the country in mid-January. Please continue to remember the young people who attended the Bible Camp in your prayers.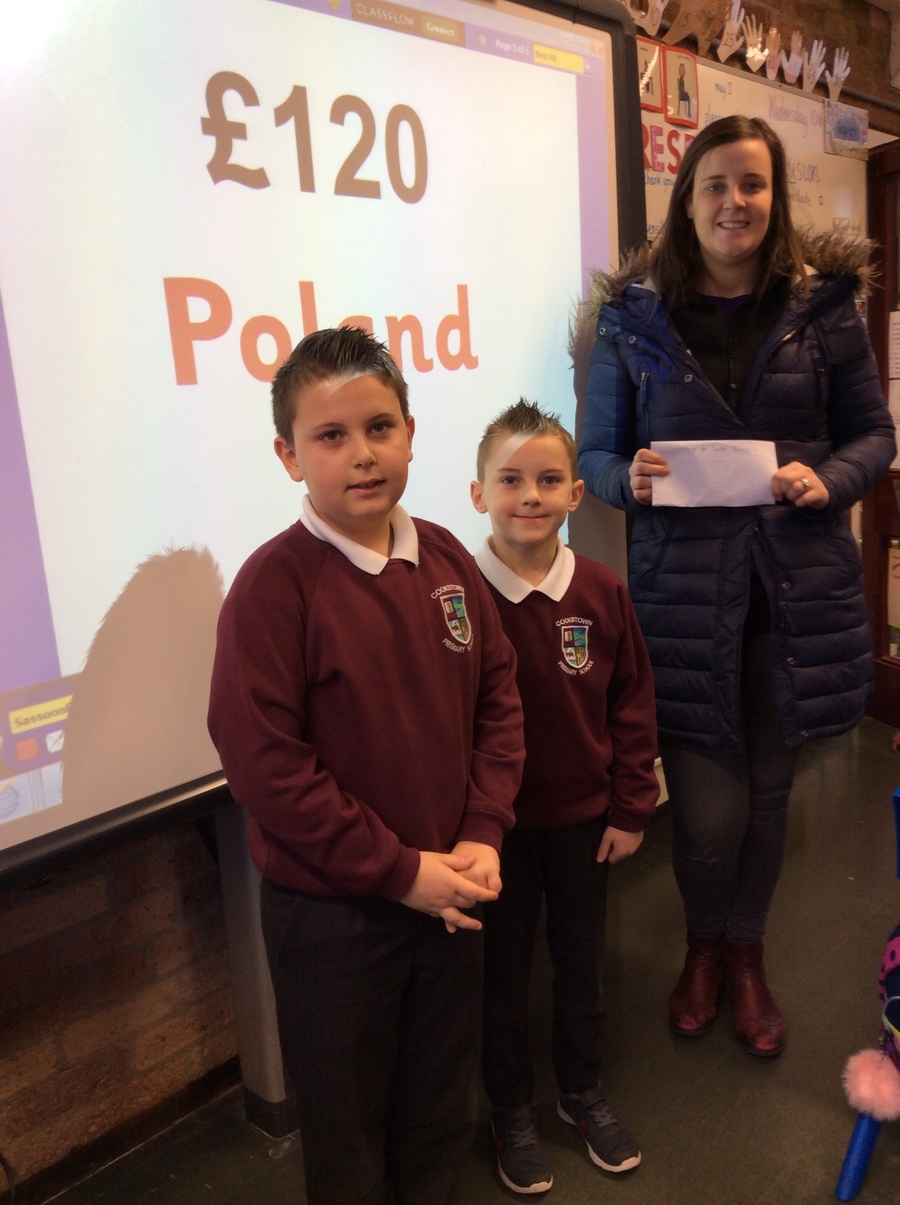 Winter Weather
When it snows there is only one thing to do – put the pencils down and go out and enjoy it!!
Shared Education Ice Breaker
The pupils from Year 4 had an amazing time with their new friends from Holy Trinity and Phoenix Primary Schools. They met together to celebrate the Chinese New Year and played highly interactive, team building games, such as the Distance Test, Chinese Chopsticks Challenge and Challenge Tarp! The pupils also enjoyed making friendship sticks with colours to tell their stories. Everyone had a great morning and we simply could not agree on which activity was our favourite! What a super way to start our Shared Education programme!
Christmas Jumper Day
On the 15th December we had a Christmas jumper day to raise money for the charity Save the Children. Check out all our festive gear below!
IFA Coaching
Year 4 are really enjoying our coaching sessions with Gareth, our IFA coach! We are focusing on our balancing skills. We can balance on different body parts and hold our balance without wobbling!
Numeracy
In Year 4 we have enjoyed measuring with non-standard units such as spans, cubits, feet and strides. Our pupils found some really interesting things to measure at home like their television, fridge, fireplace, baby's bath, baby sister, their dog and even their parents and grandparents!
Golden Time
We ALL deserve a little 'Golden Time' after a week of hard work in Primary 4!
The Argory
Year 4 pupils thoroughly enjoyed their visit to the National Trust's big house 'The Argory'. Everyone dressed-up in period costume before having a tour of the mansion, playing with Tommy's wooden toys and strolling through the gardens. Wonderful!
Roots of Empathy
Year 4 are participating in the Roots of Empathy programme. It is an exciting programme which teaches us how to respect and care for each other with lessons shared with our Roots of Empathy baby.
We were very excited to meet our baby 'teachers' in September.
Mrs Miller's class will be observing baby Hallie and Mrs Orr's class will be learning through sharing experiences with baby Sienna.
Each class will predict and cheer when their baby reaches the 'developmental milestones' of the first year and we will be coached to observe the baby and understand how the baby is feeling.
Burnavon Exhibition
The pupils in Year 4 were delighted to be invited to The Burnavon Centre to view an exhibition marking the 75th Anniversary of U.S. Forces arriving in Ulster. Everyone enjoyed trying on the array of helmets, viewing a soldier's kit, handling a gas mask and playing with the 'cricket', but the weapons on display captured our imagination – in terms of their power and the damage they could do.
Our thanks go to Capt Michael Gilmour for his interesting talk and sharing his wealth of knowledge with us.
Mixing paints
We had good fun mixing paints to create new and interesting shades of blue and yellow for our beach pictures. We were very impressed with the results!
Back to school letter
To download a copy of the Year 4 back to school letter click here.