Teddy Tennis
If you go down to the classroom today you're sure of a big surprise…. Tuesdays are teddy tennis days for Mrs. Reid's P.3 class.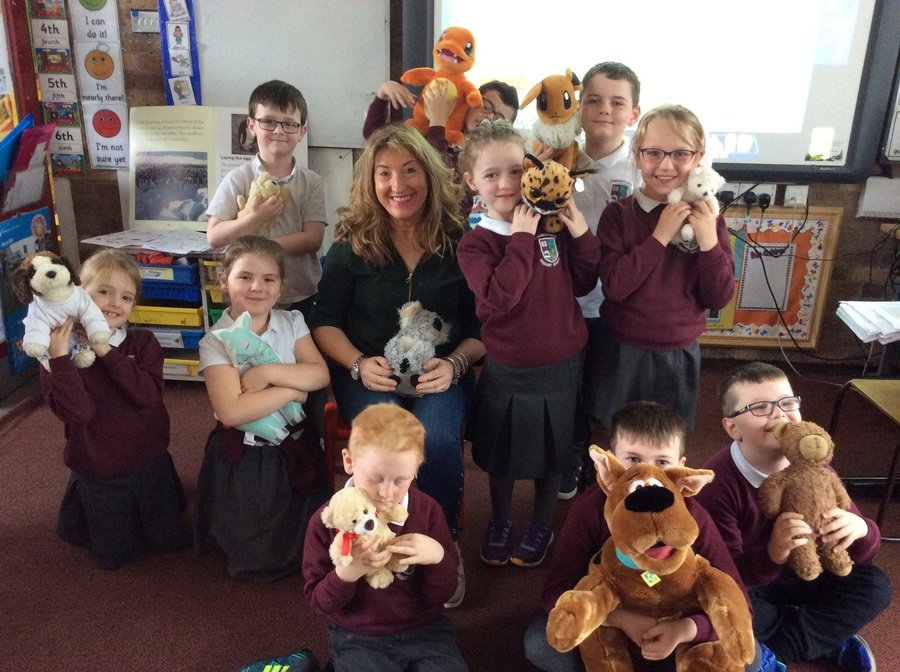 IFA football coaching
Mrs Reid's P.3 class love Mondays with Gareth ,the IFA coach.
Drama is fun with Mrs Reids class!
Hi ho ,hi ho, its off to school we go!!!
Picnic time in P.3
Mrs Reid's class made the most of the sunshine by enjoying their picnic break outside.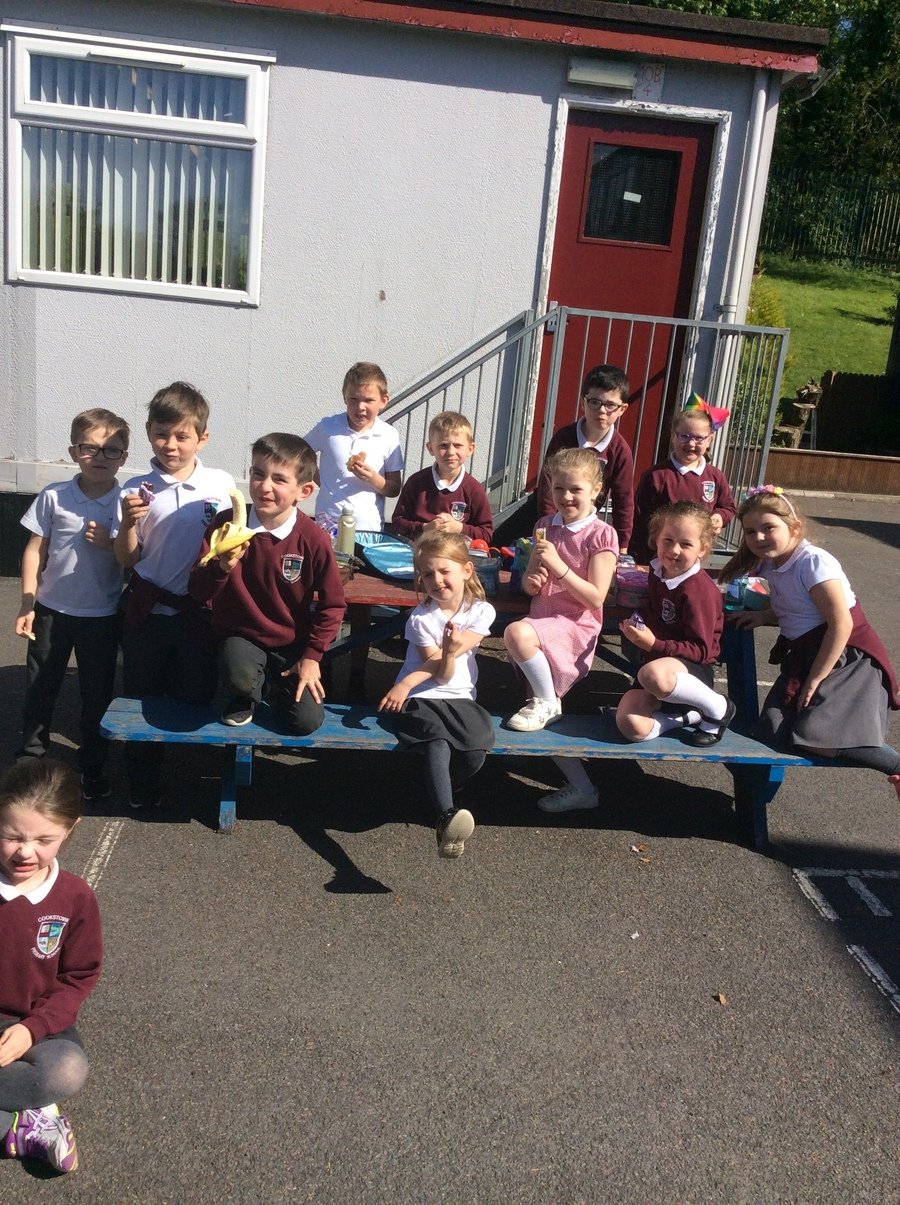 Making Maths Fun!
The boys and girls enjoyed playing the Tom Ten game. Who will be the first to exchange all their units for a ten? Who will be the winner with 5 tens?
Mini-beast Hunt
Primary 3 enjoy exploring the garden on their quest for mini-beasts. Where will we find the mini-beasts? Is there one under this big stone? Could there be one under this leaf? Where else shall we look? Getting a better look through the viewer.
The life of a caterpillar
Small world mini beast area
Finding colours in the natural environment
Show and Tell
Primary 3 Mrs Agnew's class continue to enjoy 'Show and Tell' during Golden Time on a Friday.
Minibeasts
Primary 3, Mrs Agnew's class enjoyed creating their minibeast pictures using an app on the iPad during reward time.
Healthy Break
Primary 3 Mrs. Agnew's class are enjoying their healthy break.
Fun in the Sun!!
P.3s decided to make the most of the sunshine in the soft play area. Let's hope there are more days like this to enjoy. A great treat and a great way to end our week!
Pancake Tuesday
The mouth-watering smell of cooking wafts through the P.3 rooms! It can only mean one thing…
Its Pancake Day!!
Lights Camera Confidence!
Mrs Reid's P.3 class are the thespians' of the future!
The children are loving their drama lessons!
They are performing for each other in short improvisations and mime.
Here are some of the children's views:
"Drama is fun because you get to warm up with games" – Andrea
"I love drama because its fun!" - Eli
"I love drama because you learn different words like mime and improvisation and get to be different characters "- Lauren
Odds and Evens investigation
Primary 3 investigated what would happen if they added two odd numbers, two even numbers and an odd and an even number together in a sum using dominoes. The discussion was very interesting.
Objects float and sink
Our future Scientists! We have been investigating floating and sinking. We took some objects and placed them in water to find out which ones floated and which ones sank.
Numeracy
We have been learning about 'doubles' in our Numeracy lessons.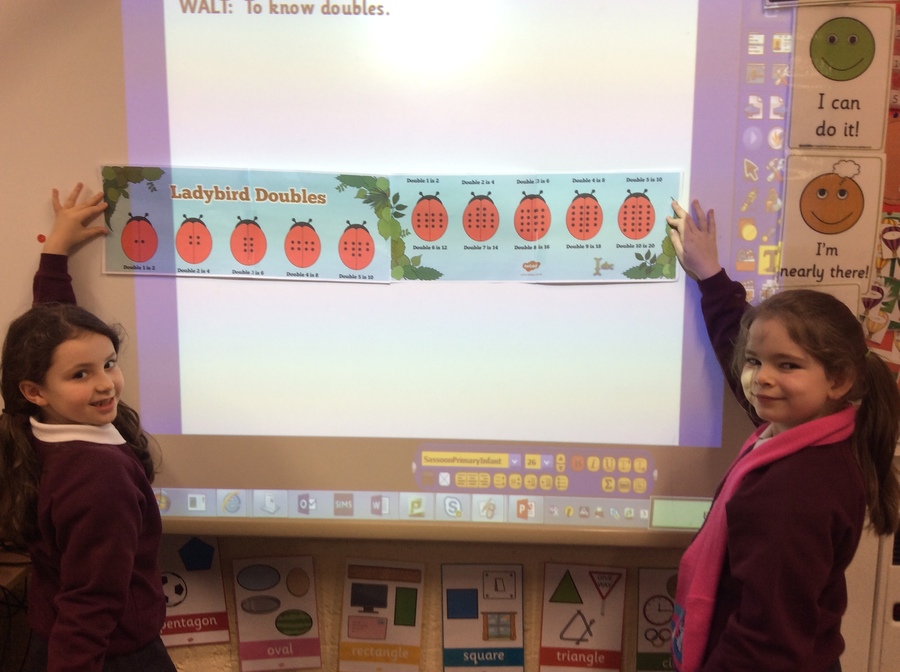 Bubble pictures
P3. have been investigating water. During Art we investigated the effects of soap in water and made a bubble picture.
Activity Based Learning in P3
The boys and girls had fun observing how rain falls during our science lesson as part of our water topic!
Quotes from pupils
"It was fun watching how the rain came through the clouds"
"This was a fun way to learn about rain"
Our visit to Cookstown Fire Station
Primary 3 enjoyed a recent visit to the local Fire Station. The children learned about fire safety and how fire fighters can help us. They enjoyed watching Mr Maxwell dress up as a firefighter. We really loved sitting inside the fire engines! Thank you to all involved in making our trip so special.
Fire, Fire!
This term P3 are investigating the topic Fire. In our activity based learning the children have enjoyed dressing up as firefighters during role play. We used computer technology to enhance our learning as we researched information about the Great Fire of London. We used the IWB and non-fiction books to enhance our learning as we researched information about the Great Fire of London.
Show and Tell
On a Friday afternoon Mrs. Agnew's class have 'Show and Tell'. The children have the opportunity to tell their news and stories to the class on what they have been doing at home during this time. The children really enjoy this and Mrs Agnew loves to hear information on what they have been up to outside school.
Mental Maths
Year 3 using ICT software to help them develop Mental Maths strategies.
The Three Little Pigs
The Three Little pigs sent an urgent request the Year 3 classes!
The pigs were being terrorised by a big bad wolf!!
P.3 to the rescue….
Mission: to build strong homes for the Three Little Pigs !
Mrs McComb working with the designers, builders and architects of the future during the Three Little Pigs STEM challenge.
Designing and making the pig models.

The straw house takes shape!

Building a strong brick house.
Art
Being creative in Mrs. Agnew's room.
Art
Being creative in Mrs. Reid's room.
P.E
Staying fit and having fun in Mrs Comb's class.
Back to school letter
To download a copy of the Year 3 back to school letter click here.