Mini-beast Hunt
Our topic in Term 3 looks at Birds, Bugs and Beasts. We have been thinking about all the different animals in the world and how we can classify them. We then started to think more about mini – beasts and went on a hunt outside on our bank. We found lots of bugs in lots of different habitats!
Measuring.
This term we are thinking all about measuring. We have worked out that measuring with pencils isn't very fair as all our pencils are different lengths. We need to use something that is the same for everyone and worked out the best thing to use would be a ruler. We love practical Numeracy!
Learning about Caterpillars.
We have been observing five caterpillars in our class to see how they change. They first came as tiny little, black caterpillars but as they ate and ate they grew bigger. Now they have changed into chrysalis. We can't wait to see them change into butterflies!
Shared Education.
Primary 3 children are learning lots of new and interesting things with their peers from Holy Trinity PS and Phoenix Integrated PS.
Lights, Camera, Action!
Primary 3 are developing their confidence in their weekly drama programme as well as having lots of fun. They have been learning specialised vocabulary including mime and improvisation. They have been presenting short performance to their peers and developing inter personal skills in negotiating roles and actions in a group.
A huge thank you to the Parents and Friends for financially supporting our drama initiative and to the parents who have also paid for their child to avail of this wonderful opportunity.
Fiction and Non Fiction
During Literacy we talked about the differences between Fiction and Non-fiction books. We agreed that fiction books are made up from the author's imagination and that non-fiction books are real. They tell us information, usually have photographs, a contents page, a glossary and an index. We used the books from our library and sorted them.
Instructional writing
We continued our instructional writing by making fruit kebabs and then writing instructions for them. They were really tasty!
Becoming Builders.
We continued our Home Sweet Home topic with a science experiment. We pretended to be builders and made concrete. We mixed cement powder and gravel in a basin and observed that it was dry and a light colour. When we added water and mixed it we noticed that it got runny and went dark grey. We can't wait to see the changes that happen when it dries!
Move over Bob the builder!! P.3 are on the job!
Investigating how concrete is made for our Home Sweet Home topic.
All dressed up…just waiting not so patiently for Santa!!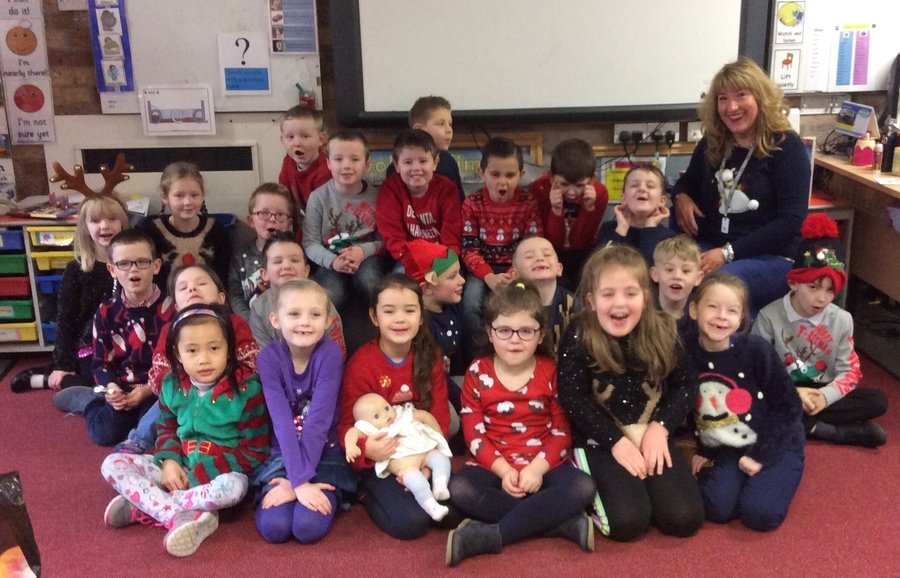 Day Five
We were learning all about o'clock times today. We had to show the times on our analogue clocks when we were asked and then had to write the digital time. We learnt that o'clock meant ___ : 00. We then had the chance to challenge our friends to make different o'clock times.
Day Four
Mrs Wilson's class continued finding different ways to make 7 by using dominoes. They had to work as a group to find as many different dominoes to make 7 as possible. It was tricky!
Mrs Reid's class went shopping and got to spend their money on some amazing items.
Day Three
Today in year 3 we were learning about the different ways to make 7. We used two different hoops and problem solved until we found all of the different combinations to make 7 like 7+0, 6+1, 5+2…
Day Two
Today in Year 3 we played toy shop money bingo. We had to count the coins that Mrs Wilson held up and if we had that amount on our game boards we could cross it off. Jack and Henry were the first to call BINGO!!
Day One - Maths Week
Year 3 have been exploring our new shiny 100 square mat. We had a competition to see who could get the answer faster. We were asked questions like, "What is two more than 15?" "What is before 30?", "Which number is between 8 and 10?" and "Which number is one less than 7?."
We also pretended to be shop keepers. We had to work out how to make the amounts to pay for the item and if we needed any change.