Thinking Skills
We have been working on our Thinking Skills in Year 2, especially working in groups. We designed our own tree houses and decided to try to build them. When we had split into groups we had to decide on which material would be best to build a tree house – Duplo, Lego, wooden blocks or clever sticks. Then we had to agree on our roles – a manager, encourager, time keeper and presenter. We worked together to build our tree houses and then presented them to the rest of the class. Don't they look great!
When a tarantula came to visit!
We loved our visit from Jamie's mum and dad with one of their pet tarantulas. Mrs Wilson wasn't so sure about it! We learnt all about how they feel weightless and tickly to the touch and even see it eating a cricket.
Shared Education
Year 2 went on a bus trip with their friends from Holy Trinity Primary School to Parkanaur. The children enjoyed playing and learning together and as you can see form the photos a great time was had by all! The boys and girls can't wait to meet up again. A big thank you to the staff at Speedwell for all their work at making this such an enjoyable and educational day.
Outdoor Play
We have absolutely loved the good weather this month! We painted the flowers we could see in the garden, made cakes in the mud kitchen and had lots of fun playing on the scooters. We even learnt how to play netball.
Cress Seeds
Our new topic has been about Places We Enjoy – the garden! We have been planting lots of flowers and vegetables including peas, carrots and sunflowers. We are growing cress seeds at the minute and can't wait to see the finished product. When it grows properly it will look like our hair is green and sticking straight up!
Outdoor Play
We love outdoor play in Year 2! We were building jungle scenes with tall giraffes and taller trees for them to eat off! We had great fun with the scooters and space hoppers and had lots of races. In the mud kitchen we made chocolate pancakes and cupcakes!
Shared Education Play Dates
Year 2 have enjoyed starting their Shared Education journey with Holy Trinity Primary School and Phoenix Integrated Primary School. When we all arrived at our different schools we got to play with lots of their toys. It was really fun and we have made lots of new friends!
World Book Day
On Thursday 1st March we celebrated World Book Day. We had great fun dressing up as our favourite book characters or simply in our favourite clothes whilst raising money to purchase new books for our school. Look at our amazing costumes below!
Boats
Ahoy there! The children in Year 2 designed and planned how they would make their boats. They then had great fun testing the boats in the water area to see how well their creations floated.
Practical Science
We are amazing scientists in Year 2. We all really enjoyed our practical science lesson about waterproof materials and we made sure our test was FAIR. The children were really good at taking turns in their groups and the discussion work was brilliant. It was super fun squirting the water over the materials and a big thank you to our brave volunteer who stood under the broken umbrella!
Outdoor play
The boys and girls had a fantastic time in the outdoor play area. They discovered frozen water in the area and we had lots of questions and discussion about the frosty weather and the seasons. There was plenty of movement and physical activity as the children used the various bikes and equipment. The children were so good at taking turns and sharing the equipment. Well done boys and girls!
Pancake Tuesday
Year 2 had great fun making pancakes and eating them for their morning snack on Shrove Tuesday. Mary Berry would have been proud of them! The children had a go at tossing the pancake and some pancakes were caught on the way back down! Their scientific skills were enhanced too as the children talked about how the batter for the pancakes changed as we used the recipe. The children also used their senses by discussing the smell and taste of the pancakes. Well done Year 2!
Numeracy
In Numeracy we have been learning about position words. We had to set up a picnic using Mrs Wilson's instructions – "sit opposite, put the cup in front of, put the drink behind".
We have also been learning all about the number 7 and the different ways to make it. We love the Topmarks game – "Ways to make…"
The Lighthouse Keeper's Catastrophe
We loved reading The Lighthouse Keeper's Catastrophe. Mr Grinling had to rescue Hamish the cat from the lighthouse! Mrs Grinling sent him down the wire but Mr Grinling was scared because the waves were HUGE! The boys and girls loved adding sand and PVA to their paint to add texture. We splatted white paint to make the foam of the waves.
Twinkle, Twinkle Art
We loved this art activity! We looked at the work of an American artist called Jackson Pollock. He like to paint using drips. We thought his art work looked like the night sky so decided we would try it out too! We put lots of paint on our paint brushes and then tapped them off our finger to make splats. It was so messy but so much fun!
Twinkle, Twinkle little star
Our new topic for this term is Twinkle, twinkle, little star. The children helped
plan their learning for the new topic with lots of discussion in small groups. Well
done to them all for the great ideas they came up with.
Practical numeracy
We have been learning about long and short. We had to put our pencil in the middle and find something around the room that was shorter than our pencil and then go and find something that was longer than it.
P.E
We have been developing our skills on the apparatus this term. We work in groups - climbing up ropes, throwing bean bags, skipping, travelling cross benches, ladders and mats and climbing up a climbing frame. It is very fun but sometimes can be scary!
Mr Grinling
We have really been enjoying the Mr Grinling stories this term. He is a lighthouse keeper who works hard to keep the light on his light house shining so that ships do not crash into the rocks. His wife always makes him a lovely lunch and sends it down on a wire from their house. One day the hungry and cheeky seagulls stole his lunch so Mrs Grinling decided to feed them mustard sandwiches. They soon stopped stealing the lunch!
We decided to make the hungry birds in our gardens some bird food. We did a science experiment where we melted lard in a microwave. It changed from hard and white to runny and yellow!
During play time we have been making lighthouses and boats from Lego, playing in Mrs Grinling's kitchen and building our own boats from the junk art. We have loved testing out our boats in the water tray to see if they float or not!
Christmas Jumper Day
On the 15th December we had a Christmas jumper day to raise money for the charity Save the Children. Check out all our festive gear below!
Christmas themed structured play
Literacy
We are wonderful writers in Year 2!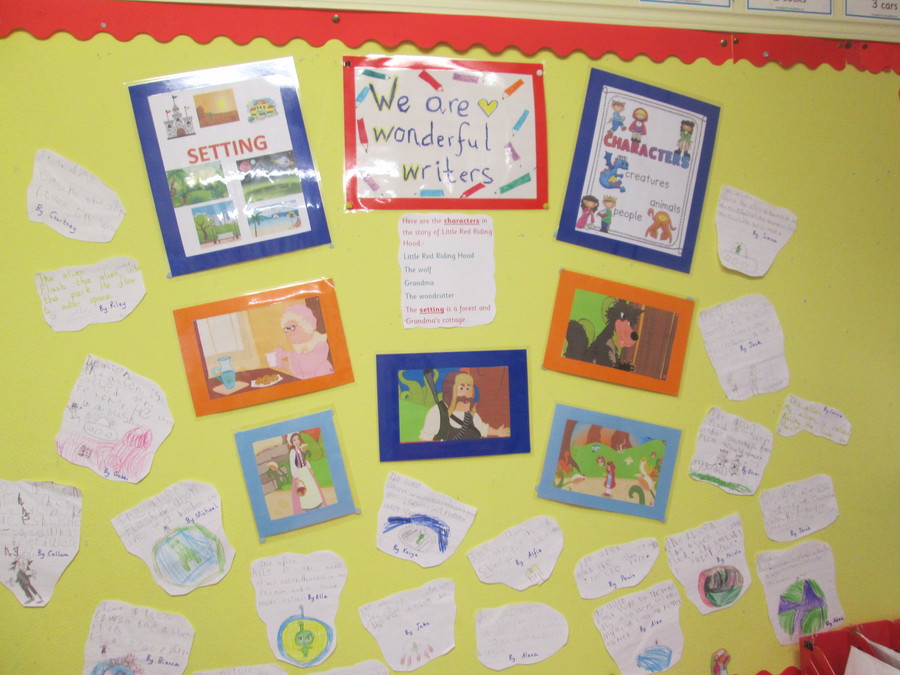 Wildlife and the countryside
The boys and girls in Year 2 are really enjoying their new topic Wildlife and the countryside. They have plenty of great discussions during playtime about how to treat the animals and a few injections have had to be given! Alexa was very proud of the book she wrote at the writing table and the boys and girls have been very creative when using this area. It's great having new books for the library which the boys and girls have made themselves. Well done boys and girls!
PDMU
The children in Year 2 were learning how Pudsey Bear cares about others. The children then talked about all the different ways in which we care about others and show respect. Pudsey really enjoyed the day in our classroom!
Outdoor Play
Year two are having such fun in the great outdoors! They are learning how to cooperate and work in a team whilst having lots of discussion, fun and chat with one another. The boys and girls are great at using their imaginations and are learning lots of new skills during outdoor play. Jake found a worm and this inspired so much discussion and learning back in class.
ICT
The boys and girls in Year 2 are enhancing their ICT skills and having great fun learning in the computer room.
Owls
We used chalks to draw owls. We used a light colour and then added a darker one on top then we used our little fingers to blend the colours together. We are brilliant artists!
Science in Year 2
We are brilliant scientists in Year 2. We did an experiment to see how germs can pass on. There was glitter everywhere and we had great fun learning about this!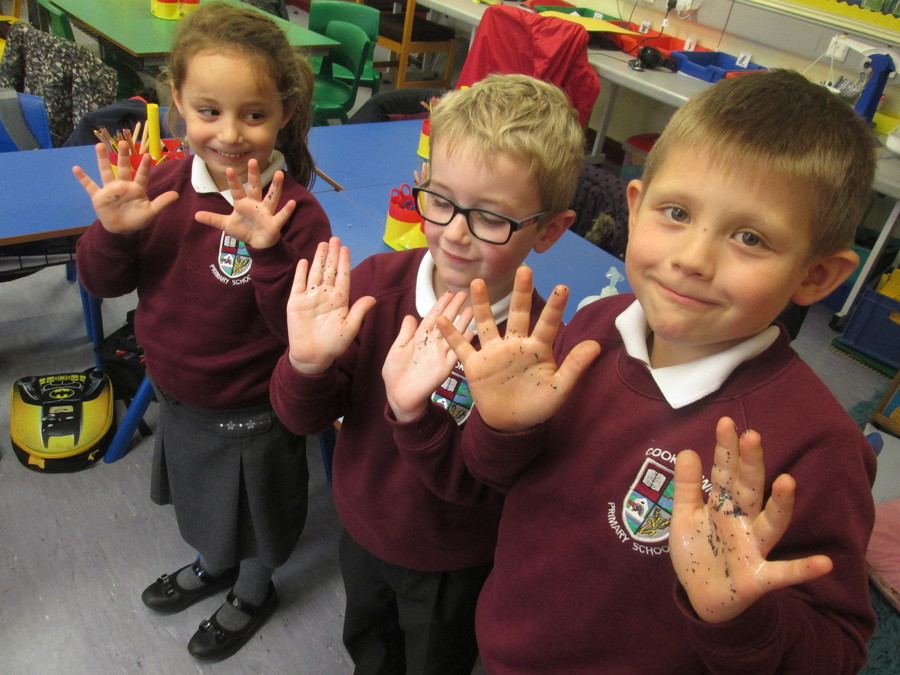 Shape Walk
The boys and girls in Year 2 were learning about shapes and the children had great fun hunting around school to find as many different shapes as they could.
P.E
Look how sporty Year 2 are-watch them go!!
Healthy Eating
Year two continue to enjoy their healthy snack time. They are fantastic at pouring out their own drink and doing the dishes! Well done boys and girls!
Debbie Doolittle's Visit
Year 2 thoroughly enjoyed their visit from Debbie Doolittle. The boys and girls got to meet and touch Mouse the ferret, Cookie the rabbit, Crinkle the hedgehog, Spirit the owl and Linney the fox. Debbie told us about how she cares for the injured animals and shared lots of interesting facts! She even told us that Linney the fox sleeps at the bottom of her bed!!
Autumn Fun
Year two were learning all about autumn and were very creative when they mixed colours to paint their trees. There were a few messy hands by the time we had finished and the children had great fun in the process!
We even had a bumper harvest to fill our Year 2 wheelbarrow and look at all the leaves which we raked up!
Homes in the past
We have been looking at houses in History. We looked at old things that were very fragile and the new versions of them. We weren't sure what some of old things were. We had to think really hard, especially when we came across an old bulky, cold, ceramic hot water bottle!
Healthy Snacks
We love our healthy snack in Year 2. We are now learning to be more independent and we butter our own toast and wash our dishes. We are getting so good at it!
Bus Trip
Year 2 enjoyed going on a bus trip around the town.
Art
Our new topic is "Me and my world" and we have been learning all about the five senses. First we are using our eyes to look carefully in a mirror at our faces. We enjoyed using the graphite pencils to draw but our hands got all messy!
Back to school letter
To download a copy of the Year 2 back to school letter click here.