Autism Centre (Encompassing LSC)
Latest News
World Book Day
On Thursday 1st March we celebrated World Book Day. We had great fun dressing up as our favourite book characters or simply in our favourite clothes whilst raising money to purchase new books for our school. Look at our amazing costumes below!
LSC 2 - Celebrations Around the World
We have looked at Chinese New Year- 16th February 2018.
We researched into the ancient legend of Nian the Chinese Dragon.

We found out that people set off fireworks to keep him away from their cities.

We all made our own Paper Nian dragon and had a procession around our room.

We pretended to be characters from the story and preformed for the rest of our class.

We researched the foods which are used to celebrate the festival.

Each food symbolises something for the year ahead- Oranges= Wealth.

We tested lots of different types of Asian food in our Tray of Togetherness, including noodles, crackers and fortune cookies.

We made our own paper fortune cookies and picked them from a bowl to reveal our fortunes.
Feltmaking in LSC 1
Children in the LSC 1 class have been enjoying participating in a programme funded by the Burnavon, hosted in our own school where local artists come into school and allow the children to be creative with felt and clay (Term 2b).
This term, we enjoyed a visit from Andrea Hayes, who taught us the art of 'Feltmaking.' The children chose from creating pictures of Dressing for Winter, Penguins or Polar Bears. They had to stretch the wool to create a wispy effect and placed their wool on bubble wrap to make the background, designed to look like the Northern lights. They then created their chosen item over a template, and spraying on warm water and soap, moulding and then sandwiching it all within two sheets of bubble wrap and then they rolled…..and they rolled……and they rolled……..until they could roll no more!
Their beautiful creations are due to be exhibited in the Burnavon Arts & Cultural centre in the week commencing 4 June 2018. We are SO excited to have OUR children's work displayed for all to see….and we know you will be proud of them too!
ASC 2 - Numeracy fun
We made our own clock faces and used them to do some work about time.
ASC 2 have been cooking up a storm!
We enjoy our cookery class every week but our favourite this month was making pizza. Eating them was even better.
ASC 2 - Felt making
ASC 2 really enjoyed our picture felt making project, thanks to the Burnavon. We made pictures of lovely birds like robins and blue tits and the best bit was spraying them with soapy water.
Snow Days with LSC 1
We have been topic work based around Julia Donaldson's books – 'The Gruffalo' & 'The Gruffalo's Child.' We were learning about the signs of Winter and how we could tell it was winter by reading the story, we learnt about camouflage and shadows, we drew our own monsters and made Gruffalos with dough. When the snow arrived, we were able to draw our Gruffalo pictures in the snow – we drew the Gruffalo with his prickles, sharp teeth, terrible claws, his knobbly knees and turned out toes and some children even put a poisonous wart at the end of his nose! We had lots of fun!
ASC1 January News
This month the children in ASC 1 have been exploring the topic of Winter. They have been outside playing in the snow, learning about Winter weather, winter clothes and reading stories around this topic. In Art/Craft they have enjoyed making snowmen from cardboard tubes, using their cutting skills to make polar bears and making penguins from different shapes. In Cookery, the children have made hot chocolate, snowball buns, polar bear cupcakes and penguin cupcakes – all absolutely delicious.
ASC 2 had lots of fun over Christmas.
We loved our pantomime trip and Katie, John and Thomas got to go onto the stage.
We made our own Christmas tree costumes for our concert item "Ten Little Christmas Trees". Katie sang "Let it go" all on her own – well done Katie!
We have been very lucky to get trying felt making thanks to the Burnavon, we made super pictures and loved all the different textures. We are looking forward to seeing them displayed later in the year.
Christmas Jumper Day
On the 15th December we had a Christmas jumper day to raise money for the charity Save the Children. Check out all our festive gear below!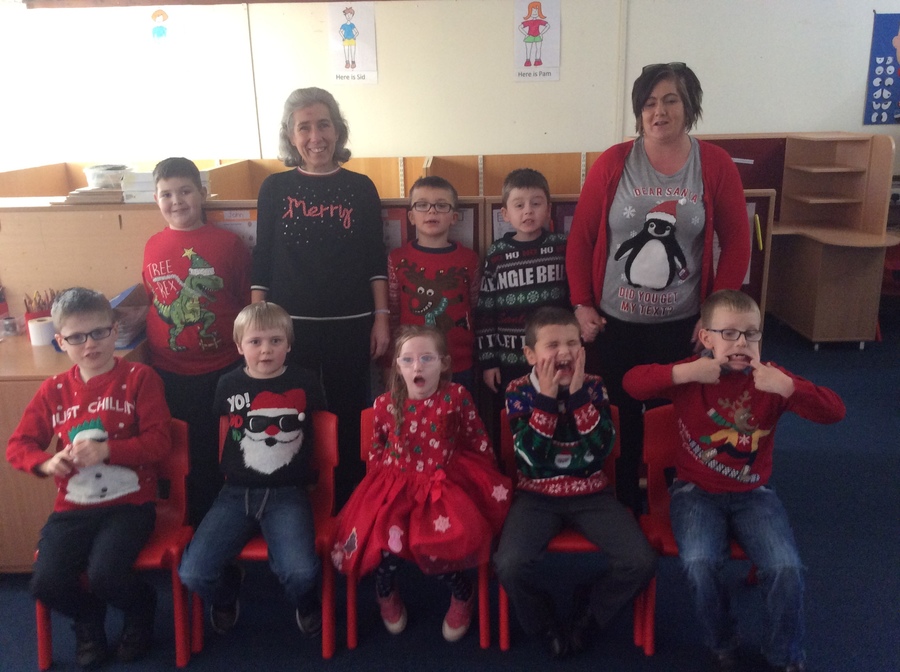 LSC 1 News
We have had a busy month in LSC 1. Our new topic has been Festivals and Celebrations. We learnt about Remembrance Day, Guy Fawkes Day, fireworks and birthdays. We are about to begin learning about how we celebrate at Christmas and why we celebrate. We did Poppy prints, we made collage firework pictures and we celebrated a birthday party from the past for Maxie Bear's birthday. The children had so much fun – they tried games like Pass the Parcel, Pin the tail on the donkey and musical statues. Katherine loved it so much she brought in her own bear and invited her classmates to Tizzy bear's birthday party. We are now getting ready for our trip to the Bardic Theatre on Fri 1 December and we are looking forward to our cinema trip on Mon 18 December. Our final celebration of the year will be on the final day of term where we will all perform a short item for the mums and dads……more details to follow!
ASC 1 News
The children in ASC1 have enjoyed learning all about Autumn. In Art and Craft they have made Autumn trees using tissue paper for the leaves changing colour as well as making hedgehogs using their handprints. They made fox masks and paper plate owls. In WAU they sorted for fruit and vegetables, talked about their favourite fruit and vegetables as well as making fruit salad in Cookery.
Daniel completed the Mucky Pups Mud race along with his mum and was presented with a medal for being so brave. He brought it into school and he told us all about it in Assembly. He is a Mucky Pup champion!
LSC 1 News
October has been a busy month in LSC 1 – We have been learning about autumn time and about animals that begin to get ready to hibernate in the autumn. Some of the children were doing their own investigating at home and found a frog in their greenhouse. This sparked some interesting art, literacy and topic work all about frogs for a day! We also enjoyed a visit from Debbie from TACT along with her forest animals – the ferret was particularly smelly, but all the children had a wonderful experience and were brave in stroking the animals!
ASC 1 News
The children in ASC1 enjoyed a visit from Debbie Doolittle and her animals. They got to see and touch Crinkle the hedgehog, Spirit the owl, Linnie the fox, Mouse the ferret and Cookie the rabbit. Debbie rescued these abandoned animals and some needed nursed back to health. All the children loved seeing these creatures and hearing their stories.
LSC 2 News
LSC Senior have enjoyed ordering and sequencing numbers at the start of the new school year. We have also loved their weekly cookery lessons. So far they have made brownies, fairy Cakes and pizza. They are learning lots of new skills and investigating what changes in food.
LSC 1 News
LSC children have been very busy and have settled well back into the school routine. Our topic has been 'All about Families.' We have been learning about who is in our family, who is the youngest and who is the oldest, how we are all different but similar in many ways and we were drawing pictograms and carroll diagrams to represent information that we had found out about our families. We have also been playing maths games to help us learn and we have been learning to work with others as part of a team!
ASC 2 News
ASC 2 have had a great start to September. We are delighted to welcome Jude and Gareth into our class. We have been doing some work on apples and also learning about ourselves so we made an apple tree to show our heights. We will look at the end of the school year and see how much we have grown!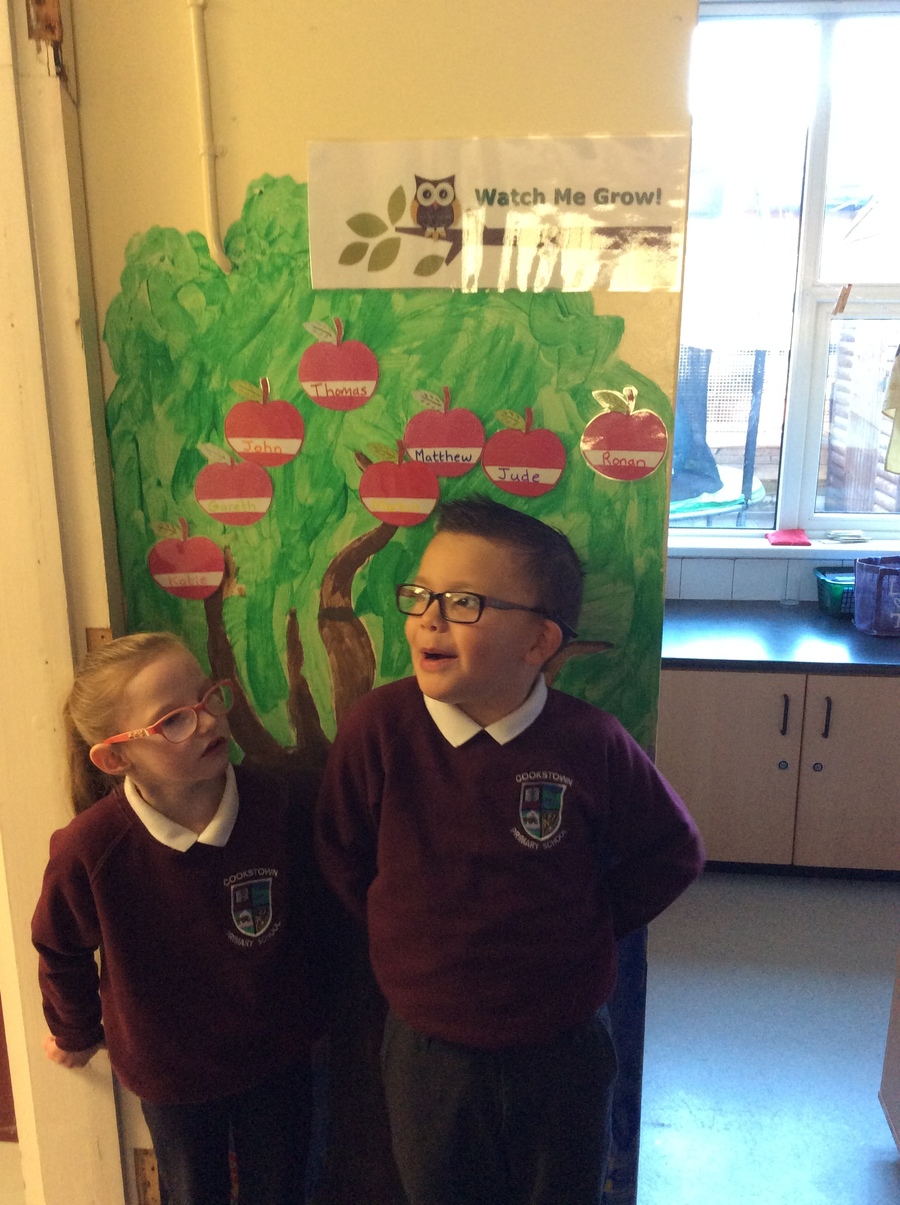 ASC 1 News
This term we welcome back Max, Daniel, Abigail, Chloe and Rebecca to our class. Oisin, Conor, Ronan and Tyler are our new pupils and it is great to have them in ASC 1.
We have had two birthdays in September – Abigail was 6 and Ronan was 5. We sang 'Happy Birthday' to them and they blew out the candles on their cakes. Everyone enjoyed a delicious slice of Abigail's caterpillar cake and one of Ronan's birthday cupcakes.
Out topic this term is 'All About Me' and the children have done some super Art and Crafts during playtime.
Let's meet the LSC's and ASC'S!