Autism Centre (Encompassing LSC)
Latest News
LSC 1 News
We have had a busy month in LSC 1. Our new topic has been Festivals and Celebrations. We learnt about Remembrance Day, Guy Fawkes Day, fireworks and birthdays. We are about to begin learning about how we celebrate at Christmas and why we celebrate. We did Poppy prints, we made collage firework pictures and we celebrated a birthday party from the past for Maxie Bear's birthday. The children had so much fun – they tried games like Pass the Parcel, Pin the tail on the donkey and musical statues. Katherine loved it so much she brought in her own bear and invited her classmates to Tizzy bear's birthday party. We are now getting ready for our trip to the Bardic Theatre on Fri 1 December and we are looking forward to our cinema trip on Mon 18 December. Our final celebration of the year will be on the final day of term where we will all perform a short item for the mums and dads……more details to follow!
ASC 1 News
The children in ASC1 have enjoyed learning all about Autumn. In Art and Craft they have made Autumn trees using tissue paper for the leaves changing colour as well as making hedgehogs using their handprints. They made fox masks and paper plate owls. In WAU they sorted for fruit and vegetables, talked about their favourite fruit and vegetables as well as making fruit salad in Cookery.
Daniel completed the Mucky Pups Mud race along with his mum and was presented with a medal for being so brave. He brought it into school and he told us all about it in Assembly. He is a Mucky Pup champion!
LSC 1 News
October has been a busy month in LSC 1 – We have been learning about autumn time and about animals that begin to get ready to hibernate in the autumn. Some of the children were doing their own investigating at home and found a frog in their greenhouse. This sparked some interesting art, literacy and topic work all about frogs for a day! We also enjoyed a visit from Debbie from TACT along with her forest animals – the ferret was particularly smelly, but all the children had a wonderful experience and were brave in stroking the animals!
ASC 1 News
The children in ASC1 enjoyed a visit from Debbie Doolittle and her animals. They got to see and touch Crinkle the hedgehog, Spirit the owl, Linnie the fox, Mouse the ferret and Cookie the rabbit. Debbie rescued these abandoned animals and some needed nursed back to health. All the children loved seeing these creatures and hearing their stories.
LSC 2 News
LSC Senior have enjoyed ordering and sequencing numbers at the start of the new school year. We have also loved their weekly cookery lessons. So far they have made brownies, fairy Cakes and pizza. They are learning lots of new skills and investigating what changes in food.
LSC 1 News
LSC children have been very busy and have settled well back into the school routine. Our topic has been 'All about Families.' We have been learning about who is in our family, who is the youngest and who is the oldest, how we are all different but similar in many ways and we were drawing pictograms and carroll diagrams to represent information that we had found out about our families. We have also been playing maths games to help us learn and we have been learning to work with others as part of a team!
ASC 2 News
ASC 2 have had a great start to September. We are delighted to welcome Jude and Gareth into our class. We have been doing some work on apples and also learning about ourselves so we made an apple tree to show our heights. We will look at the end of the school year and see how much we have grown!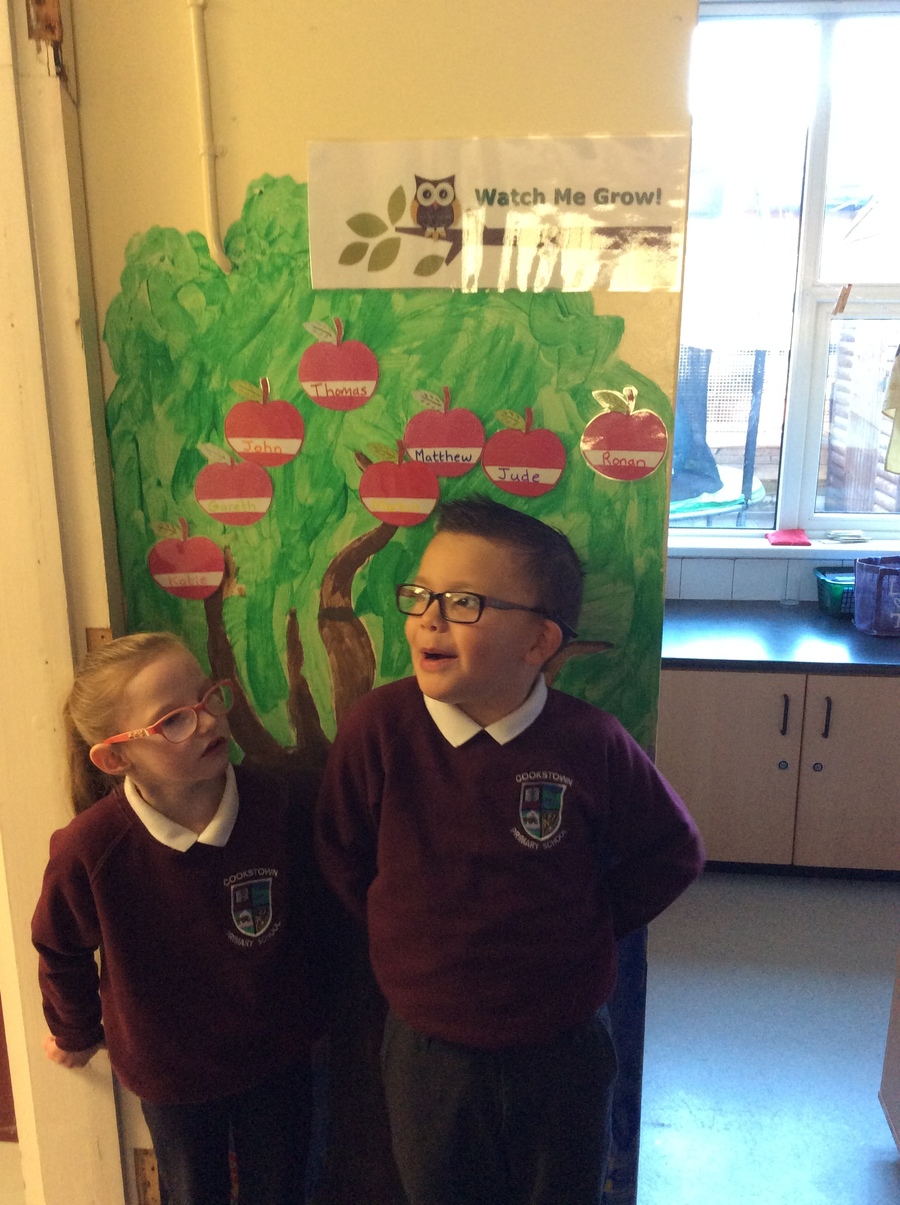 ASC 1 News
This term we welcome back Max, Daniel, Abigail, Chloe and Rebecca to our class. Oisin, Conor, Ronan and Tyler are our new pupils and it is great to have them in ASC 1.
We have had two birthdays in September – Abigail was 6 and Ronan was 5. We sang 'Happy Birthday' to them and they blew out the candles on their cakes. Everyone enjoyed a delicious slice of Abigail's caterpillar cake and one of Ronan's birthday cupcakes.
Out topic this term is 'All About Me' and the children have done some super Art and Crafts during playtime.
Let's meet the LSC's and ASC'S!